My Shopping Totals : See how I feed my family of six (including 3 teens) for around $125/week. See our $125 Budget Weekly Menu here.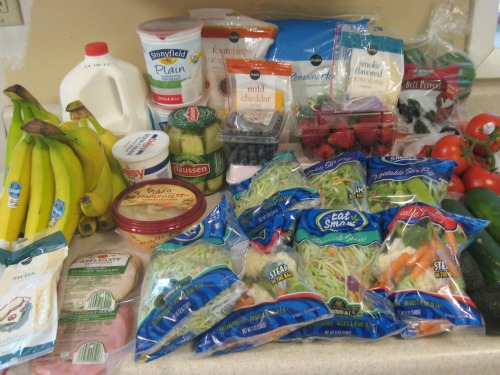 PUBLIX Part 1
I had one hour to shop this week, so I did a little experiment. I did all of my shopping at the store closest to my house.
So for those of you who have a limited selection of stores in your area, here are a few ways to beat the system:
Make a Detailed Menu Plan
By making a detailed plan for EVERY meal this week, I could limit my shopping to only those items we need, and thereby keep by total spending lower. I was even able to afford organic milk this week.
Use What You Have
My menu plan included items that I already had in the freezer, fridge and pantry (like my pre-cooked ground beef ), so I had fewer items to purchase. (Watch my Easy Freezer Cooking video here to see how I prepare ground beef for the freezer to make super quick meals!)
Buy Sale Items
Of course, you know that buying sale items lowers your budget, but buying the sale items doesn't help if you don't plan to use them in your weekly menu. I purchased the lowest price items at Publix this week and based my meals around those items, so I was able to stick to the budget even though I only shopped at one store.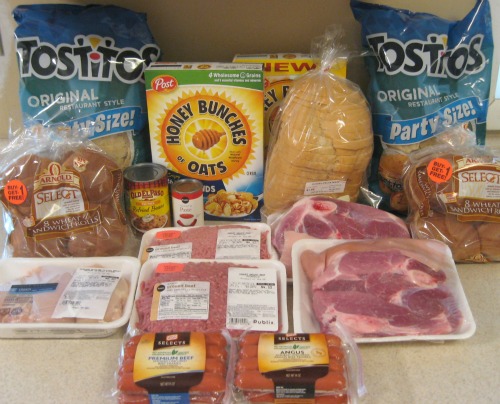 PUBLIX Part 2 
Limit Your Meat Consumption
Meat can be expensive, but I was able to include meat in our menu by buying the meat that was on sale, and by planning meals that use less meat. Rather than serving baked chicken breasts, which would mean purchasing a minimum of 8 chicken breasts, I am making Easy Chicken Stir-Fry which requires only three chicken breasts.
I am also making Mexican Stuffed Bell Peppers (recipe coming soon), which only requires one pound of ground beef, so I will be able to put the other package in the freezer.
 PUBLIX-–Total Spent $125.32.  
Weekly Total: $125.32

Monthly Total: $528.60 + $120*
*Extra $120 was spent on a "lifetime supply" of bacon from Zaycon Foods (read more about bulk ordering from Zaycon here.), which put me way over-budget for the month ($125 a week budget).
How did you do this week? Leave a comment!
(Email readers will need to click the title of this post to go to the blog and leave a comment.)
Join us for The Peaceful Mom Save Money On Groceries Challenge! I share one tip to implement each week so you can start saving right away! Click here to see the current Save Money On Groceries Tips.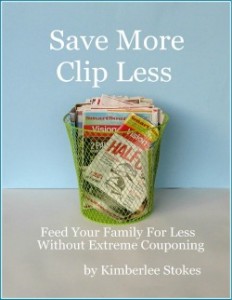 Read more about how I stick to a $125 a week budget in my Save More-Clip Less e-book!
Click here to see what others are saying.
Click here to see previous week's shopping trips.
You May Also Enjoy: