Gluten Free Cheese Crackers Recipe
Eating gluten free doesn't have to be expensive! Instead of purchasing pre-made gluten free snacks, try this delish gluten free cheese cracker recipe (and if you make them in a star shape you can use them as a snack or appetizer for the Fourth of July.)
1 package Chebe Gluten Free All Purpose Bread Mix
1 teaspoon sea salt
1/2 teaspoon garlic salt
1/2 cup grated cheddar cheese
1/4 cup fresh grated parmesan–NOT the stuff in the can (optional)
2 eggs beaten
2 tablespoons extra virgin olive oil
3-5 tablespoons water
INSTRUCTIONS
Preheat oven to 375° F.
Mix together in a large bowl Chebe Mix, sea salt, garlic salt and grated cheese.
In a separate bowl, mix the eggs and olive oil.
Add the egg and olive oil mixture to the dry ingredients and mix well.
Add 3 tablespoons of water to the mixture while continuing to mix.
Place the dough on the counter or a cutting board. It will be moist but crumbly like this: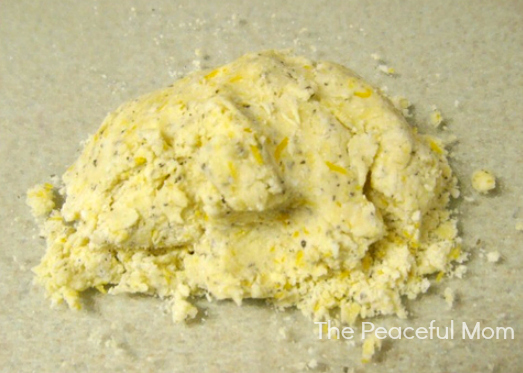 Knead for a minimum of 5 minutes until you can form the dough into a nice smooth ball.
Divide the dough into four equal parts.
Place one dough portion between two sheets of wax paper and using a rolling pin, flatten the dough to 1/16 inch thickness.
Carefully remove the top layer of wax  paper.
Using the wax paper underneath the dough, lift the dough and carefully turn it onto a lightly greased baking pan.
Remove wax paper.
Using a cookie cutter, cut dough into desired shape and remove excess dough from the pan.
(Excess dough can be re-rolled to form more crackers.)
Repeat with remaining dough portions.
Bake 10-12 minutes, but watch carefully the last few minutes because they burn easily.
You can purchase Chebe Gluten Free All Purpose Bread Mix here on Amazon.
I'm linking up to Tasty Tuesdays and Gluten Free Wednesdays!
You May Also Enjoy: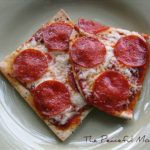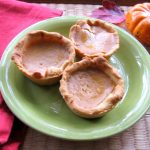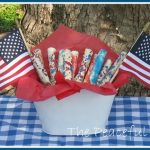 I'm linking up to Gluten Free Tuesday!
*Affiliate links are included in this post. Read our disclosure policy here for more information.