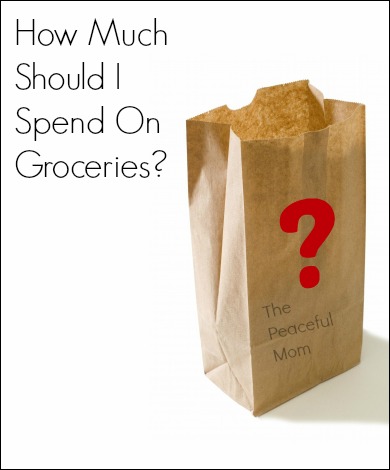 Save Money On Groceries!
Each week in this series I am sharing one simple tip that you can implement to start saving on your grocery bill right away.
Many of the tips will be familiar, but if you take the Save Money on Groceries Challenge with us, you will actually take the steps each week instead of just filing them in the "I should do that" file. 

 [To join in, just leave a comment saying that you already use the tip of the week, or that you will start this week.]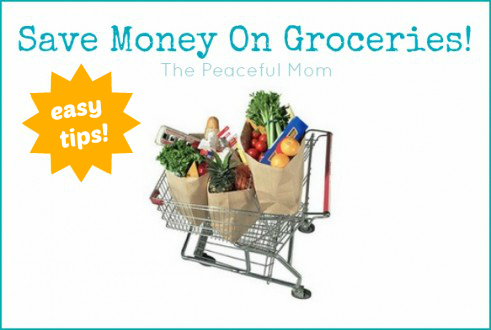 [Click here to see all the tips in this series.]
Today I am answering a reader question.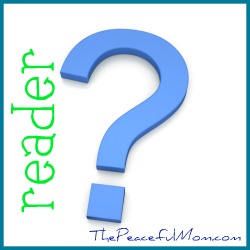 I'm newly married and haven't mastered the grocery bill yet. I primarily shop sales and target cheaper items.
My question is how much should I be spending on groceries? What would be considered "normal" and what would be considered "frugal"? We spend about $300 a month for the two of us.
 A:  As you know, there are many factors involved in determining a food budget.
Every family eats differently. Some purchase only organic produce, include gluten free items or shop at specialty stores. Some people include nonfood items such as toiletries and pet food in their weekly grocery budget. Others may have smaller grocery budgets because they eat out once or more per week, so they are buying groceries for fewer days.
For purposes of this discussion I am including only food items in the grocery budget and I am assuming that the groceries are purchased for three meals, seven days a week.
To get an idea of the average grocery spending in the U.S., I checked the Government's statistics on the USDA website. The USDA's most recent food cost statistics list the weekly cost for a household of two on the thrifty plan to be $87.30 per week [2016 UPDATE: $89.40], or $6.24 [2016: $6.38] per person per day. The cost for a family of four with two children under 5 is $127.30 [2016: $130.10], or $4.55 [2016: $4.64] per person per day. (The family cost per person is smaller because the children don't eat as much as an adult, and the cost is averaged for the four family members.)
[UPDATE: The cost for a family of four with two older children ages 6-11 is $149.70 per week, or $5.35 per person.]
For me personally, by using the methods outlined in my Save More-Clip Less: Feed Your Family For Less Without Extreme Couponing ebook, I could easily feed my husband and I for $60 a week ($4.30 per person per day) which saves $109 over a four week period. I currently feed our family of six including three teenagers and a twelve year old for $125 per week, or $2.98 per person per day. We do have access to fairly cheap in-season produce, but prices on most items are more expensive than other parts of the country such as the mid-west.
As for your budget, you could try $60 a week and if find that you need more money in the budget add $10 increments to the budget until you reach what you think is reasonable for you.
Really the issue of how much to spend on groceries boils down to your personal needs and values. If you have a higher income and believe strongly in purchasing all organic foods, for example, then you will have a higher grocery bill by choice. If you have a lower income and believe strongly that you should eat only organic food, then you will have to make sacrifices elsewhere in your budget to be able to afford the higher cost.
If your goal is to save as much money as possible, there are many ideas included in the Resource section below which you can implement to bring your grocery bill down to a level which is much lower than what the USDA suggests.
What do you think? Leave a comment with your family size and weekly grocery amount.
Resources
How to Save Money On Groceries When You Are Single and Working— This post has some great tips that can help you when feeding only one or two people.
Save Money on Groceries Series — My best ideas for saving money on groceries each week.
8 Dinners in 1 Hour: Chicken Plan — A great method to make multiple meals for the week based on sale items.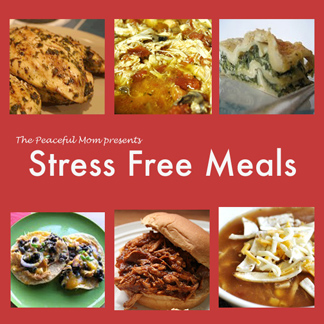 Sign up here for The Peaceful Mom Weekly e-Notes to make sure you don't miss any of my money saving tips! PLUS get my $125 Budget Weekly Menu delivered right to your inbox along with my best tips to save money, get organized and enjoy life!
You will also receive my exclusive more freebies like my Best Times to Buy Everything printable and more.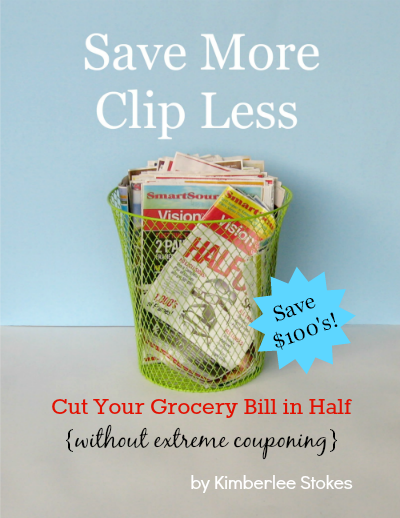 For more ideas to save money on groceries, check out my ebook Save More–Clip Less: Cut Your Grocery Bill in Half  Without Extreme Couponing.
Click here to see what others are saying.
Photo Credit: FreeDigitalPhotos.net/Felixco Inc.