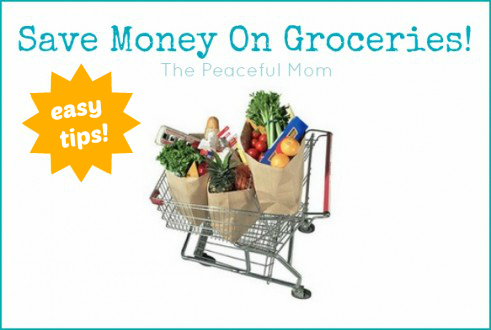 Save Money On Groceries!
Save money on your grocery bill, so you can spend the money on other priorities! Each week I'm sharing one simple tip that you can implement to start saving on your grocery bill right away.
Many of the tips will be familiar, but if you take the Save Money on Groceries Challenge with us, you will actually take the steps each week instead of just filing them in the "I should do that" file. 🙂 [To join in, just leave a comment saying that you already use the tip of the week, or that you will start this week.]
[Click here to see all the tips in this series.]
 Today's Tip: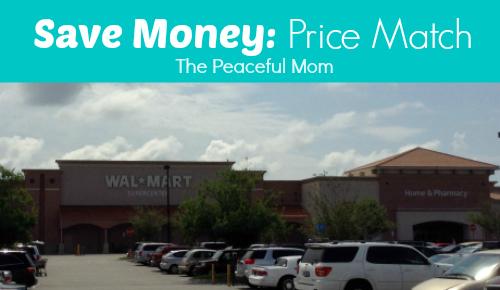 Price Match
I mentioned in my last Grocery Saving Tip that I shop multiple stores to purchase the loss leaders, or super sale items, but sometimes I have a limited amount of time and need to shop at one store. That's when the Walmart Ad Match Guarantee comes in handy.
Simply take the sales flier from any local store into Walmart and they will match any local competitor's advertised price for the identical item in the ad (size, quantity, brand, flavor, color, etc.) including:
Buy one, get one free ads with a specified price (ex: Buy 1 at $2.49, Get one Free)
Competitors' ads that feature a specific item for a specified price
Preferred shopping card prices for specific items that are in a printed ad
Prices on fresh produce and meat items when the price is offered in the same unit type (lb. for lb.; each for each)
Why It Works
Just like shopping at multiple stores, using the Walmart Ad Match Policy allows you to take advantage of the best sale prices (loss leaders) at various stores, only you save time and gas money because you aren't driving to several different locations.
There are times,however, when the using the Walmart Ad Match Policy is not the best way to get the lowest price. For example, the local produce stand where I like to shop has phenomenal prices on produce, but no printed ad. Another issue is that discount stores like Save-A-Lot have lower prices than Walmart on lots of staple items, but these items are not listed in the weekly sales flier, so I have to stop by the store to get those items at the lower prices.
Unfortunately, there is no one perfect strategy to always pay the lowest price for your groceries. You will need to track the prices in your area and determine where you can find the lowest price on the items you buy most often, then plan your shopping accordingly. If you do not want to take the time to use multiple strategies, using the Walmart Ad Match Policy is one of the best overall way to save money.
Resources
Click here to see the complete Walmart Ad Match Guarantee. The policy states that customers are not required to have the ad with them, but I usually take the ads with the items I want to price match circled so there are no questions. There are some limitations, so be sure to read all the details.
Sign up here for The Peaceful Mom Weekly e-Notes for weekly organizing 7 money-saving tips plus great freebies!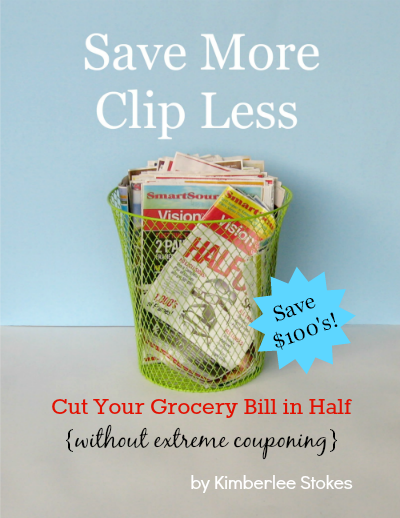 For more ideas to save money on groceries (and a more in-depth explanation of how to make a price book), check out my ebook Save More–Clip Less: Cut Your Grocery Bill in Half  Without Extreme Couponing.
Click here to see what others are saying.
Do you use the Walmart Ad Match Guarantee? Leave a comment to tell us about your experiences. 🙂