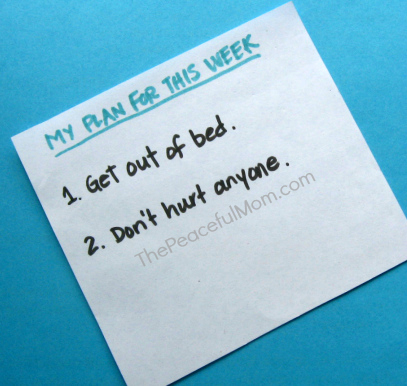 Just Keepin' It Real Folks.
Get Organized: Make A Weekly Plan
Each Sunday night I make a plan for the following week, because:
(a) I've learned the hard way that if I don't plan it, it doesn't get done;
(b) I value my sanity.
That being said, I almost cried when I wrote our schedule into my calendar this week. With my husband and two of my teenagers with jobs outside our home, my weekly plan is now more like a jigsaw puzzle.
So why after writing a post about being Unbusy, am I seemingly being a hypocrite and participating in the busiest summer we have had yet?
I Am Not An ATM
My children like most offspring want stuff. They are less materialistic than some, but they do like new video games and going to the mall on occasion.
We are those crazy parents who think our teenagers should have to work for the "extras". We provide shelter, food and basic clothing, but contrary to a popular t-shirt, my husband is not an ATM.
We want our teens to be prepared for real life, to understand the word "work" and to comprehend that it means 20-30 hours of hard labor to produce the money for that game system.
Jobs Are A Blessing
We know several people who are either out of work themselves, or are trying to find jobs for their teens. We do not take for granted the fact that we have three employed people in our home.
And frankly, it can be a good thing to have your 18 year old son out of the house for a few hours most days of the week (just sayin').
Debt Equals Death
Do I want to spend so much time in the car that I develop "driving elbow"?
For the love of all things decent and deep-fried, NO!
We could make life much "easier" by marching ourselves down to the local used car dealership and signing up for a "no money down, $300/month" car payment–only we won't.
The hassle of spending so much time in the car is far outweighed by the burden of owing money to someone else, so we will do things the old fashioned way and (gasp!), save money to buy another car.
The good news is that life is seasonal. In a few months the summer job will dwindle into a few off-season hours, and life will slow down again. A few months after that we will probably be able to purchase another car, and within a few years those teenagers will be adults and out on their own. There will be plenty of time for sleeping then.
So this week, I will lower my expectations. I will exercise when I can, try to squeeze in a date with my husband and stay peaceful while I drive, drive, drive.
You can read last week's plan here, which is more of what my A-Type personality likes to see. 

As a gift to my readers, you can now print your own customizable Weekly Plan! Click here and "like" The Peaceful Mom on Facebook to access the download link.
Click the link and type in your info for the week. Once you are done, right click the form to print and check off each task as you complete it.
(You can see all of the FREE printable planners I have available here.)
Don't miss any of my tips to help you save money, get organized and enjoy life! 

Click here to sign up for my FREE Weekly enotes and get FREE gifts including my Stress Free Meals ebook and my exclusive printable organizing labels!
What do you think? Would you make a different choice? Leave a comment.
(Email readers will need to click the title of this post to leave a comment on the website.)
You May Also Like: