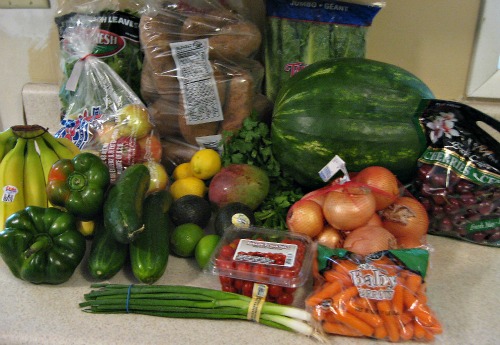 Fun Friday Shopping Totals: See how I feed my family of six (including 3 teens) for around $125/week. See our $125 Budget Weekly Menu here. 
Join me on Twitter or Facebook for daily posts and interaction, or subscribe to my Weekly e-Notes and get my Stress Free Meals ebook for FREE plus more gifts!


  

 PRODUCE MARKET–Spent $33.74
(items pictured above plus 4 boneless skinless chicken breasts for $7.84)
Money Saving Tip: Check local produce stands and ethnic markets. They often have much lower prices on certain items than chain stores. I picked up a 15 lb bag of potatoes for $3.99 or just $.27 cents a pound, pint grape tomatoes for $1.49 and watermelon for $3.49.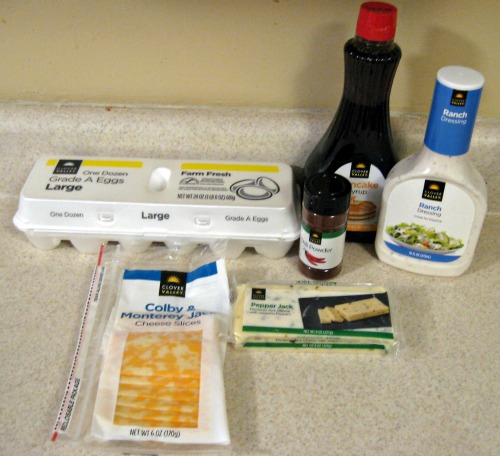 DOLLAR GENERAL ––Spent $11.35.  
Money Saving Tip: Check alternate stores for lower prices on staple items.
Early in the week we were in Dollar General to purchase a non-food item and I noticed the grocery section. I was just too tired to handle Walmart that day, so I picked up a few items we needed. The cheese was a little more expensive, but the other items were cheaper than Walmart prices (eggs were $.30 cents cheaper a dozen!). I may add Dollar General to my weekly or biweekly grocery route.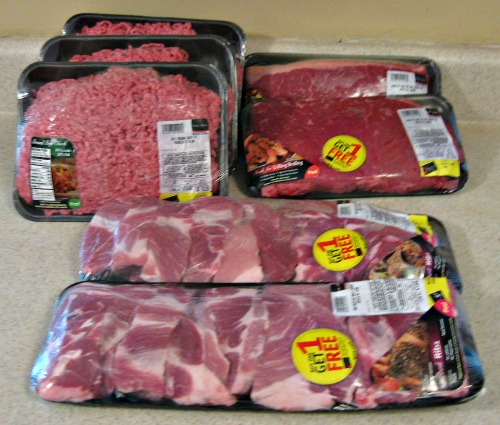 WINN DIXIE–Spent $39.85.
Money Saving Tip: Buy meat at it's lowest price and freeze it for later. We will use about half this meat this week and the rest will go in the freezer for later. Instead of paying full price for meat when we decide we want it, I save by purchasing the meat at the lowest price for our area, and "shop" my freezer later in the month.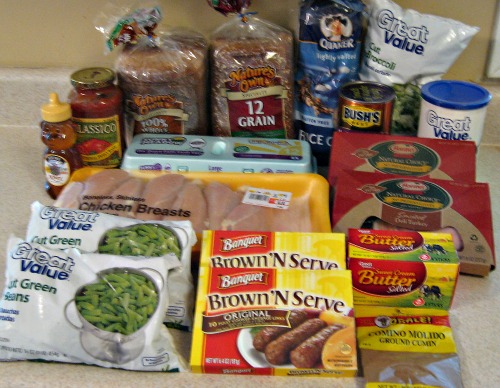 WALMART–Spent $42.77.
I did finally make it to Walmart by the end of the week to purchase some items we were out of. There are a few items that are slightly cheaper at Save A Lot, but I wanted to make one stop, so I chose Walmart.
Weekly Total: $135.55

June Monthly Total: $302.96   
($125/week budget for six people–$10.55 over for the week, but I was able to buy meat that we will use for a couple of weeks, so hopefully I can keep the budget in line the rest of the month.)
Join us for The Peaceful Mom Save Money On Groceries Challenge! I share one tip to implement each week so you can start saving right away! Click here to see the current Save Money On Groceries Tips.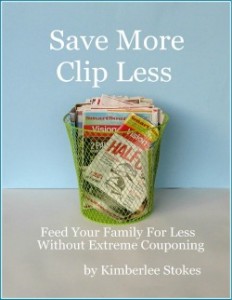 Read more about how I stick to a $125 a week budget in my Save More-Clip Less e-book!
Click here to see what others are saying.
Click here to see previous week's shopping trips.
How did you do this week? Leave a comment!
You May Also Enjoy: