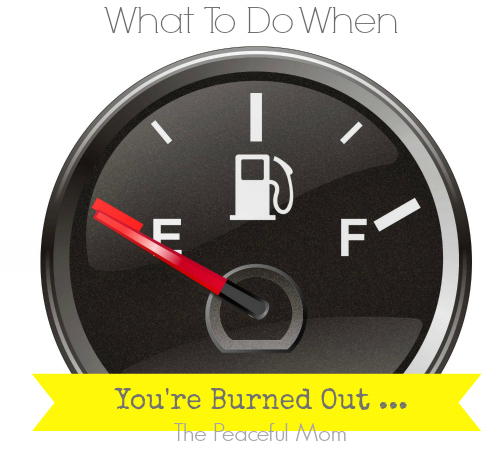 As I mentioned in previous posts, I have had a very busy season of life with my trip to Guatemala at the end of April, my son's graduation activities, hosting family and friends, attending an out of town wedding and now transporting three family members to jobs outside the home with one vehicle (all while maintaining the blog and our household). I knew that I felt tired, but I just kept pushing myself except for the occasional afternoon nap.
Well, all that busyness has finally caught up to me: the tank is empty.
For the last few days I have only been able to accomplish a few things each day before I am physically, mentally and emotionally spent. My brain and body simply won't function past a certain point anymore, and I realized last night that I have to take immediate action to recover from this exhaustion and to regain my equilibrium.
Here's a peek into my burnout recovery plan.
Rest
My first plan of action to try and regain some balance is to sleep and rest as much as possible. I am going to bed earlier, sleeping later, and doing the bare minimum at home. Thankfully my children can help, but if you have young children, it's time to call on friends and relatives to help out.
Drink
No, not alcohol. 🙂 One of the best ways to help your body cope with stress is to stay hydrated. I normally try to drink six to eight glasses of water a day, but in all the busyness I have not kept up very well. I am determining to make this a top priority now. (Click here to see my DIY Drink Reminder Magnets to help you keep track of your water intake.)
Have Fun
I normally try to include fun in my life on a weekly basis (see my Weekly Plans here), but this week I am spending as much time as possible doing activities that replenish me like art journaling, reading, listening to worship music, spending time outside and watching a few good movies.
Unplug
I will be taking a break from technology which includes taking a couple of days off from the blog (my virtual assistant will be posting the gluten free deals tomorrow and the freebies on Friday). Thank you for your patience.
It feels very unprofessional to publicly admit where I am, but I am hoping by doing so that I will encourage you to take better care of yourself too. 🙂 In the meantime, enjoy some of the Taking Care of You Posts (click here) from the past to help you prevent burnout.
You May Also Enjoy: