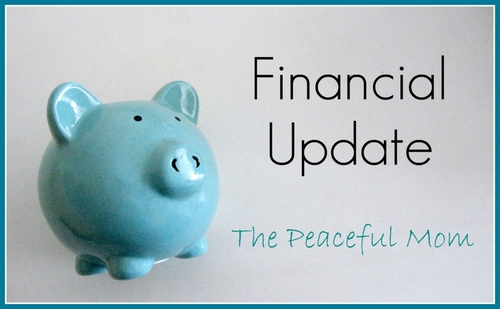 May Financial Update–In conjunction with the Living on Less Than $28,000 A Year series, I started sharing periodic Financial Updates about our family's finances. I don't always give specific numbers, but I thought it might be helpful for those of you in a similar situation to take a peek at how things go at our house.
Yes, it is already the tenth of June so I am a little late, but here is the rundown of our family's finances for the month of May.
Don't miss any of my tips to help you save money, get organized and enjoy life!

Click here to sign up for my FREE Weekly enotes and get FREE gifts including my Stress Free Meals ebook and my exclusive printable organizing labels!
Spending
May was a very expensive month for us. Between my son's 18th birthday and graduation, hosting visiting family and friends for the festivities, and attending an out-of -town wedding, we spent lots of money.
The good news is that we had savings. The bad news is that we were not able to save enough before May started, so we ended up spending part of our emergency fund in order to travel to our friend's wedding. I am sure this was not a Dave Ramsey approved decision, but we felt that it was important to attend the wedding because of our close relationship with the family.
I did keep our grocery budget in line with my total grocery spending at $493.44 for the month ($500/month budget for six people), and our utilities were low because we did not have to turn on the air conditioning until late in the month thanks to the mild weather in our area.
Saving
We did not save any money this month, but we did not go into any debt (Read here Why We Don't Have Any Credit Cards.), and we still have part of our emergency fund intact. So while we did not make any progress, we didn't do too much damage to our finances.
June Goals
Our primary goal for this summer is to spend as little as possible and save, save, save. We want to refund the money we spent from the emergency fund and start saving for a second vehicle. (Read my 3 Reasons You Need An Emergency Fund and How to Get One Fast post.) Life with one vehicle and three family members with jobs outside the home is interesting to say the least!
Were you able to meet any financial goals in May? Leave a comment so we can encourage each other! 🙂  
(Email readers will need to click through to the blog to leave a comment.)
You May Also Enjoy: