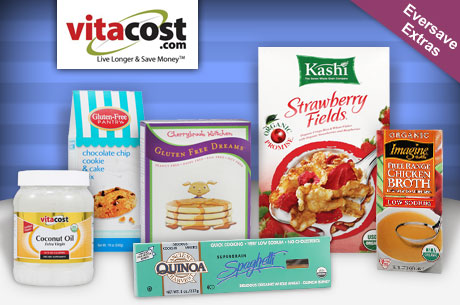 Vitacost.com is where we purchase many of our gluten free foods and supplements like the Carlson Cod Liver Oil Capsules which are a great natural source of Vitamin D.
Right now you can get 47% off many items including gluten free favorites which makes it a great time to use your FREE $10 Credit!
Click here to get your $10 FREE Credit!
Accept the terms and conditions, and create an account to get your FREE $10 coupon code.
Once you have your credit, click these links to go directly to each deal: 
Bob's Red Mill Gluten Free Whole Grain Rolled Oats — 32 oz for $3.93 per bag (47% off). We use these oats in our Crockpot Granola and Oatmeal Pancake recipes.
Eden Foods Organic Dried Cranberries Sweetened with Apple Juice — 4 oz $2.71 (43% off). Use these in my Broccoli Salad with Cranberries and Pecans Recipe!
Bob's Red Mill Stone Ground Gluten Free Cornmeal — 24 oz $1.61 (47% off)
Bob's Red Mill Whole Ground Flaxseed Meal — 2 lbs $2.96 (47% off)
Bob's Red Mill Premium Quality Xanthan Gum — 8 oz $7.59 (47% off)
Don't miss any of my tips to help you save money, get organized and enjoy life!  Click here to sign up for my FREE Weekly enotes and get FREE gifts including my Stress Free Meals ebook and my exclusive printable organizing labels!
Click here for more DEALS & FREEBIES to help you save money!
*Affiliate links are included in this post. Read our disclosure policy here for more information.