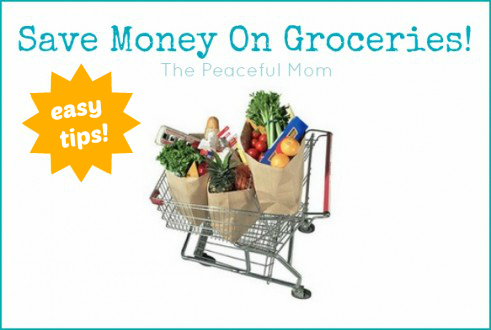 Save Money On Groceries!
Save money on your grocery bill, so you can spend the money on other priorities! Each week I'm sharing one simple tip that you can implement to start saving on your grocery bill right away.
Many of the tips will be familiar, but if you take the Save Money on Groceries Challenge with us, you will actually take the steps each week instead of just filing them in the "I should do that" file. 🙂 [To join in, just leave a comment saying that you already use the tip of the week, or that you will start this week.]
[Click here to see all the tips in this series.]
 Today's Tip: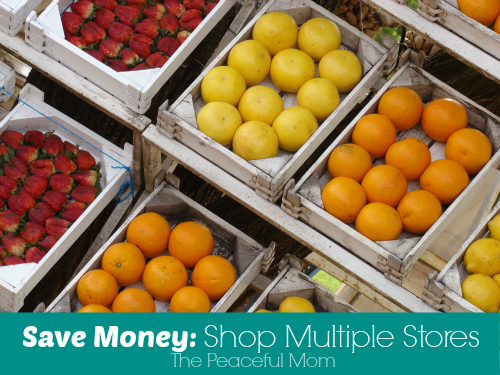 Shop Multiple Stores.
If you are like most shoppers, you have a favorite store, and you probably only shop at that one location. This week I am encouraging you to expand your horizons and shop at several different stores in your area.
Why It Works
Shopping at multiple stores enables you to take advantage of the sale prices at each store (remember those loss leaders?). If you shop at only one store, you may purchase sale items, but lose the money you saved because other items at that same store are priced much higher than you can find elsewhere.
You will also find that certain items are almost always lower at certain stores. In my area, a local produce stand beats grocery store prices on fruits and vegetables by at least 30% each week. You can check discount stores, ethnic shops, butcher shops and farmer's markets to research the best prices for your area.
Before you dismiss this idea, try these three ways to make this strategy work for you:
Shop Close To Home
In most cases, it doesn't make sense to drive more than 15 miles to shop unless the prices are significantly better. All of the stores that I shop are within a three mile radius of my home.
Combine Errands
If you do have to drive a long distance to get serious savings on groceries, try shopping once or twice a month instead of every week. You can also save by combining grocery shopping with other errands in the vicinity.
If I am unable to complete my shopping in one day, I will visit a store on my way to or from another errand or meeting, and I carry a soft sided cooler in the event that I purchase cold or frozen items.
Try One New Store Each Week
If you absolutely cannot find the time to shop multiple stores, try shopping at one new store each week and writing down the prices in your price book (read here how to make a price book). You may be surprised to find just how much you can save at other stores.
Resources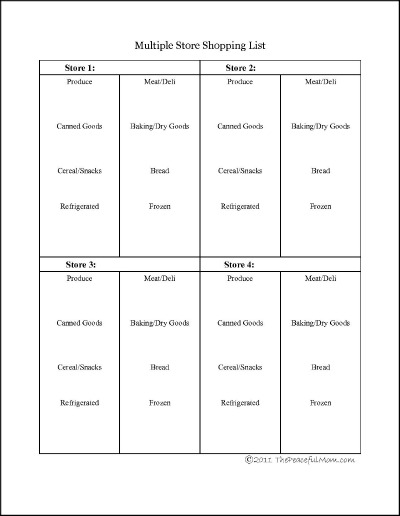 Printable Multiple Store Shopping List
Sign up HERE for The Peaceful Mom Weekly eNotes for weekly money saving secrets & organizing tips PLUS awesome free gifts!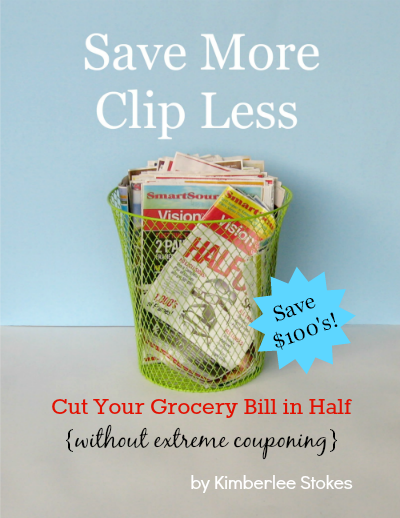 For more ideas to save money on groceries (and a more in-depth explanation of how to make a price book), check out my ebook Save More–Clip Less: Cut Your Grocery Bill in Half  Without Extreme Couponing.
Click here to see what others are saying.
Do you shop at multiple stores? Leave a comment. 🙂