Living on Less doesn't mean that you can't have any fun! We recently hosted 30 people for my son's graduation/18th birthday party using these money saving strategies to stick to our budget, yet still have a great time.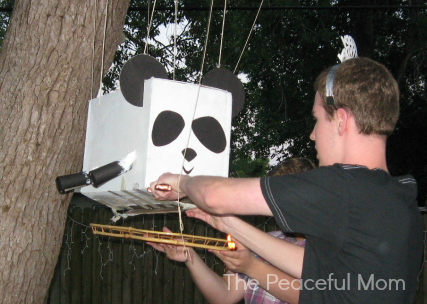 Use What You Have
One of the best ways to save money is to use what you already have rather than spending money on something new. For our party we used our own backyard rather than renting a facility, and my son used his ingenuity and materials we had around our house to create a Panda "Pinata" (which was filled with homemade foil-wrapped tacos).
You may not want to make a pinata out of a box, but look around your home to see what you can use for decorations, serving dishes and other party needs, rather than going shopping.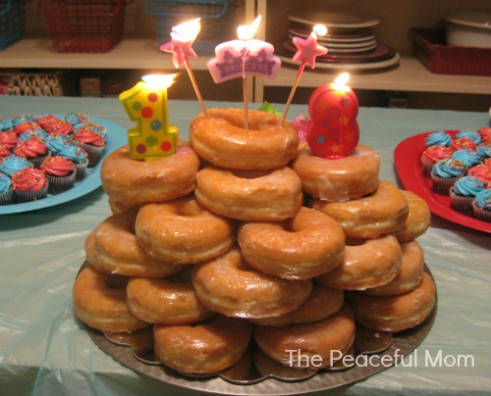 Make It Personal
Parties are not more fun or special because of the amount of money we spend, but because of the thought we put into them. We wanted to host a unique party that reflected my son's personality, so in addition to a Taco Spewing Panda Pinata (which he sliced open with a machete I brought him from my recent trip to Guatemala), we created a cake from one of his favorite foods–doughnuts!
Using inexpensive personal touches can make your event more memorable for your guests, and they won't notice that you didn't spend a lot of money.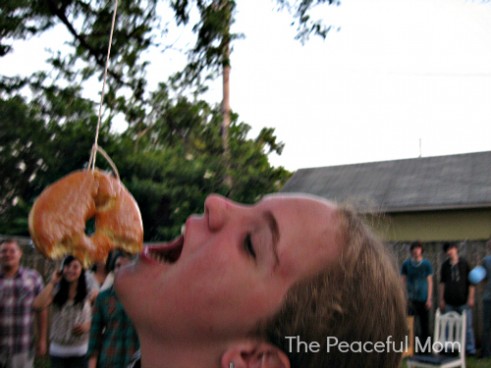 Be Creative
Speaking of doughnuts, my son created several challenges for his guests to take part in, including this "eat the doughnut as fast as you can without touching it" game, speed balloon decorating, some relays and other games.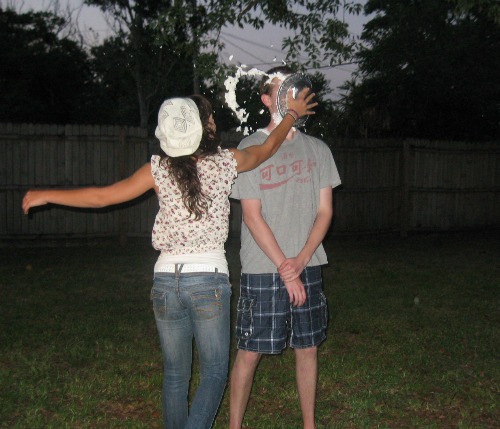 The top five points winners of the games had the privilege of throwing a whipped cream pie in my son's face (his idea!).
None of these games cost a lot of money, but the fun that the kids had was priceless! By being creative, you can ensure that your guests have a good time no matter what your budget is.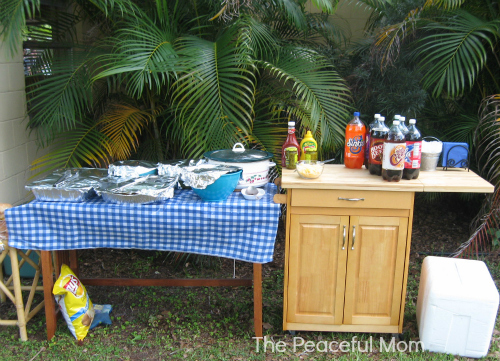 (I forgot to take a photo with the food uncovered. :()
Serve Economical Food
We chose to create a Hot Dog Bar with toppings like homemade chili, cheese, relish and bacon. The party was near Memorial Day, so we were able to take advantage of sales on hot dogs, ground beef and chips for the party and feed those hungry teenagers for less.
We were also able to get a deal from a local bakery on the six dozen doughnuts we ordered (yes, SIX dozen 😉 ). It never hurts to ask for a discount!
Enlist the Help of Friends
Unfortunately I did not get photos of these items, but one friend brought his amazing homemade macaroni and cheese to the party, another friend made her famous chocolate chip cookies, and others brought soda and chips.
Most people are more than willing to help out a little by bringing something simple to the party. Just make sure you aren't asking your guests to provide items that are very costly or are time consuming to make (unless they are very good friends and offer to do so 🙂 ).
Hosting a party on a budget isn't difficult, it just takes a little bit of planning and creativity. Sure you can spend a lot of money and impress your friends with your catering skills, but it's more important to create a relaxed atmosphere where friends can enjoy themselves, and that doesn't cost much at all.
You May Also Enjoy: