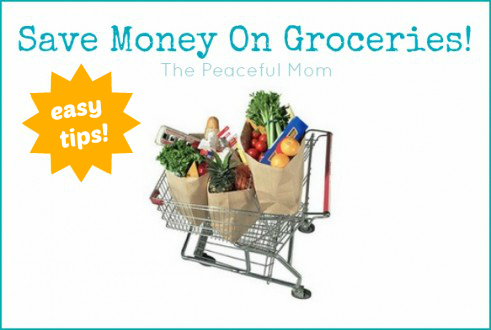 Save Money On Groceries!
Save money on your grocery bill, so you can spend the money on other priorities! Each week I'm sharing one simple tip that you can implement to start saving on your grocery bill right away.
Many of the tips will be familiar, but if you take the Save Money on Groceries Challenge with us, you will actually take the steps each week instead of just filing them in the "I should do that" file. 🙂 [To join in, just leave a comment saying that you already use the tip of the week, or that you will start this week.]
[Click here to see all the tips in this series.]
 Today's Tip: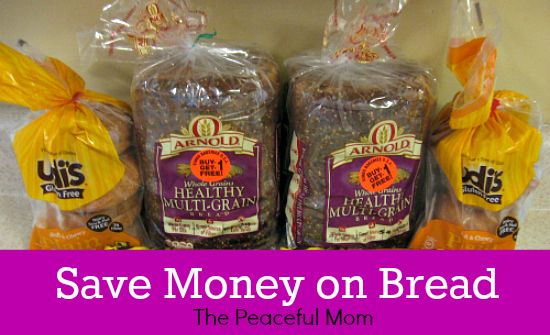 Save Money on Bread.
I shared in last week's Save Money on Groceries Tip about how combining several "small" strategies can really lower your grocery bill. One of those small strategies is saving on bread and baked goods.
It seems that one of the biggest price increases on grocery items over the last several years has been for bread products. Sure, you can stop eating them altogether, but sandwiches are one of the easiest lunch options and sometimes you just need a good grilled cheese sandwich!
Here are just a few of the ways we save.
Buy Bread in Bulk
The most obvious tip for saving money on bread is to buy it on sale, but what if the bread you like only goes on sale every six weeks? My top strategy is to buy enough bread to last until the next sale and freeze it. I can easily pull a loaf out of the freezer in the morning and have it thawed by lunchtime.
Use a Coupon
I use very few coupons these days, but I always print the coupons for gluten free bread. When you find a coupon, hold on to it until the item goes on sale and you can save even more. Just be sure to watch the expiration date. Check my weekly Gluten Free Coupons and Deals post to find the latest coupons.
Shop Bakery Outlets
Many areas of the country have bakery outlets where manufacturers send baked goods that are close to the expiration date. You can often find bread for half price at these stores. To save gas, you can shop the outlet once or twice a month, purchase what you need until your next trip and store it in the freezer.
If the bread is a little dry, wet a clean dish towel and wring it out. Wrap the loaf of bread in the damp towel and place it in the microwave for 20-30 seconds. Your bread will be soft, warm and ready to eat.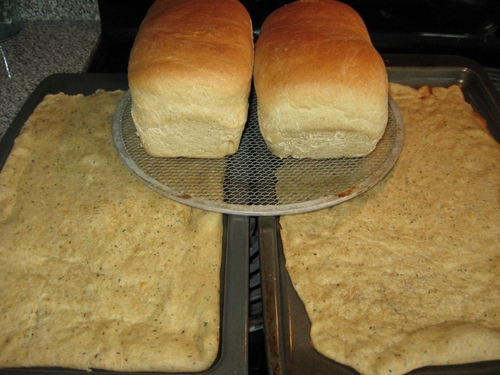 Make Your Own
Making your own bread can cost more than purchasing store bought bread, but if you are able to purchase the ingredients in bulk, you may end up saving quite a bit. Homemade bread has the added advantage of being healthier for you because you avoid the chemicals and additives in mass-produced bread.
A few years ago we had access to a bulk source for wheat berries, so we ground our own wheat flour and made bread from scratch multiple times per week. Once we found out my daughter was allergic to wheat, I stopped making it.
We have not yet made any gluten free bread, but we make our Chebe Gluten Free Pizza Crust regularly and I did download a book of gluten free bread machine recipes  that looks promising.
Resources
Discount Bread Stores-Check your local listings to find a discount bread/bakery outlet store in your area
Weekly Gluten Free Coupons and Deals Post (check for available gluten free bread coupons)
Gluten-Free Baking Classics for the Bread Machine eBooke (We have not tried any of these recipes yet, but the author gives very detailed information about how to successfully make gluten free bread using a bread machine.)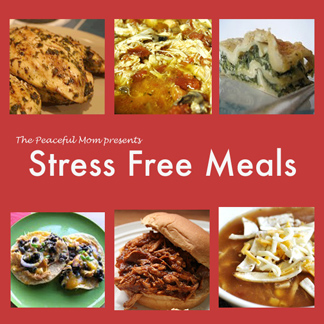 Sign up here for The Peaceful Mom Weekly e-Notes to make sure you don't miss any of my money saving tips PLUS get my $125 Budget Weekly Menu delivered right to your inbox along with other ways to save money, get organized and enjoy life!
You will also receive my exclusive 99 Ways to Jump for Joy Subway Art Print, my Customizable Organizing Labels and a FREE copy of my Stress Free Meals ebook.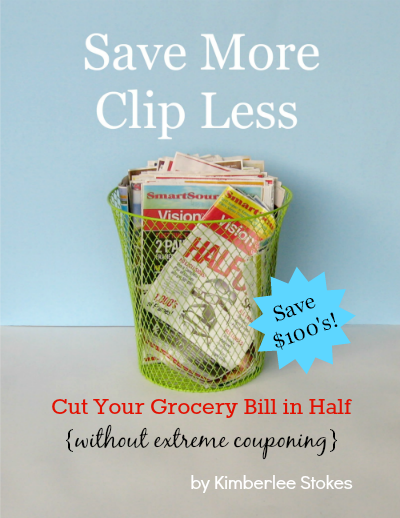 For more ideas to save money on groceries (and a more in-depth explanation of how to make a price book), check out my ebook Save More–Clip Less: Cut Your Grocery Bill in Half  Without Extreme Couponing.
Click here to see what others are saying.
How do you save on bread and bakery products? Leave a link or recipe. 🙂