Today I have a to-do list a mile long and I am feeling the pressure, so I did the only sensible thing: I went on a long walk in a garden near my home.
Sometimes we just have to jump off the roller coaster of life and regain our equilibrium. There are flowers to be sniffed, paths to be walked, breezes to enjoy.
Yes, those things are still on my to-do list, but I am calmer, more peaceful and better able to address them.
If you are in a season of life where things are spinning out of control, make an appointment in the next two days to spend some time relaxing and recharging.
If you would like to read more, Joshua Becker has a great post on becoming un-busy, which is a worthy goal, if you ask me.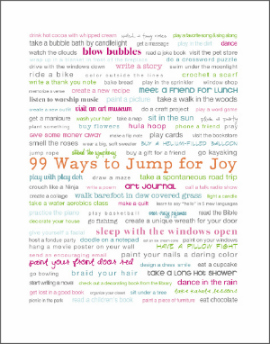 Click here to join The Peaceful Mom Weekly e-Notes group and receive my top tips to help you save money, get organized and enjoy life!
You will also receive my exclusive 99 Ways to Jump for Joy Subway Art Print!
You May Also Enjoy: