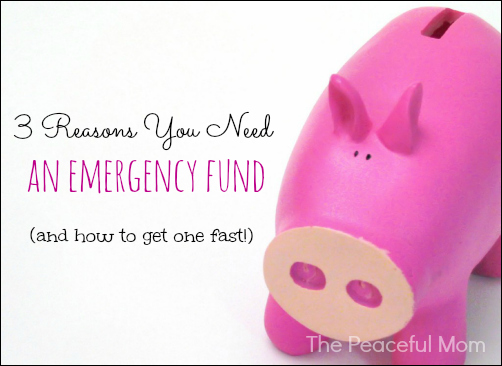 3 Reasons You Need An Emergency Fund (& how to get one fast!): You know you need one, but chances are you may not have started to build your emergency fund.
Don't miss any of my tips to help you save money, get organized and enjoy life! 

Click here to sign up for my FREE Weekly enotes and get FREE gifts including my Stress Free Meals ebook and my exclusive printable organizing labels!
Let me give you three compelling reasons to get started:
stuff happens.    stuff happens.    stuff happens.
Our most recent example of stuff happening occured last week when I made a payment of $200 using our debit card. Unfortunately the person processing the payment didn't get the memo and charged us $2000 instead.
As you might imagine, this caused some problems with our account. Banks are not very understanding when a withdrawal is made from your account that equals more than your total balance. Even though I contacted the company and our bank, the money was not returned to our account for six days! Meanwhile, life continued. We still had to put gas in the car and food in the fridge.
Thankfully, we had a few hundred dollars in cash in our "at home e-fund" which we were able to use for the daily necessities until everything could get straightened out.
Even if (or maybe especially if) you are "barely making it", you can start your own emergency fund and create a "stuff happens" cushion with these three steps: 
Designate a savings location.
Ideally you should set up a separate bank account, but at a minimum you need to choose an envelope, jar, corner of your sock drawer or some other location in your home to drop the cash. Having a place to put the money makes you more likely to actually save it, and it keeps the money out of your wallet where you are likely to spend it.
Take immediate action.
Find ways to get money into your e-fund as soon as possible. Here are a few ideas to get started:
Eat cheaper meals for a couple of weeks (check my Cheap Meals List here), and put the extra grocery money into your e-fund.
Take your lunch instead of eating out.
Skip soda and coffee for a couple of weeks and put the money into the account.
Work more. Ask for overtime or other work opportunities.
Cut out all entertainment, non-essential shopping and extra spending for the next month.
By combining these strategies and sticking with them for the next few weeks, you should be able to add several hundred dollars to your account. Read  my 7 Best Money Making Ideas here for some other creative ideas to get money quickly (and legally)!
Commit to save the money for emergencies only.
Ordering pizza on Friday night because you are too tired to cook does not constitute an emergency, neither does shopping for a dress for an upcoming event.
True emergencies are things like a car accident, job loss or illness. Commit to yourself and your family to never spend the money for frivolous items.
Do you have an emergency fund? How has it helped you in the past? Leave a comment. 🙂
You May Also Enjoy: