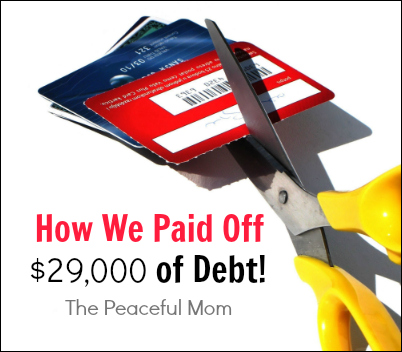 How We Paid Off $29,000 in Debt!
Money management is very personal, but I think it can be helpful to read about how others make their money work for them, so that you can find what works best for you!
Today's post is a GUEST POST from reader Julie who shares how her family paid off $29,000 in debt on a $29,000 a year income!
Don't miss any of my tips to help you save money, get organized and enjoy life! 

Click here to sign up for my FREE Weekly enotes and get FREE gifts including my Best Times to Buy Everything Chart and more!
_________________
Six years ago, my family had just made an out-of-state move in order for my husband to take a new position with a salary of $29,000 a year. I also found a job in our new town making about $25,000 a year. Two weeks after I started my new job, however, our son needed to be hospitalized for three days. I lost my new job because it required me to work for 60 days before taking any days off: sick or otherwise. I chose my son.
My husband and I decided that I would not seek other employment right away, so we became a one income family with one child and another one on the way and owing a total of $30,000 on 4 credit cards. We were not even bringing in enough money to cover the minimum payments. We decided to pay off the smallest debt right away with our tax return, so we paid off $1,000 and had $29,000 to go.
Daunting to say the least, and we didn't have money hanging on the tree in our backyard!!
For 2 months, I quit making payments on the credit card with the largest balance. (Note: This WILL affect your credit rating so only do this if it is your last option.) I called them at the end of those two months and asked if they could help. We worked out a 0% interest rate and a monthly payment that we could afford. Over time, I worked with the other two credit card companies to do the same.
We also became a cash only family. Our agreement with the credit card companies included closing the accounts and no longer using the cards. In order to pay those three credit card bills AND feed our two children, we had to start cutting back. This was not all immediate, but over time we:
Nixed cable for netflix saving $53 a month.
Moved, saving $400 month in rent.
Started regular meal planning. ($50 a week early on, but we recently increased that to $70 a week.)
Applied for a low income program with our land line company and reduced our bill by $25 a month
Moved to a home with wood heat and cistern water. Electric and gas evened out, however, we have no water bill which saves us about $40 a month.
Switched car insurance companies and reduced our bill by $40 month.
Paid off the last of our credit card debt!!
So, compared to where we were six years ago, we have shaved off $1057 a month from our budget. (This number includes the monthly payments we used to be making on our credit cards.)
While we are still living on $29,000, we have enough at the end of the month to save for a few different areas and no longer live from paycheck to paycheck. I can not begin to describe how good that feels!
Do you have a money story? You could see it published on The Peaceful Mom!

Follow the guidelines here to submit your story. (Please Note: Not all stories will be published.)
___________________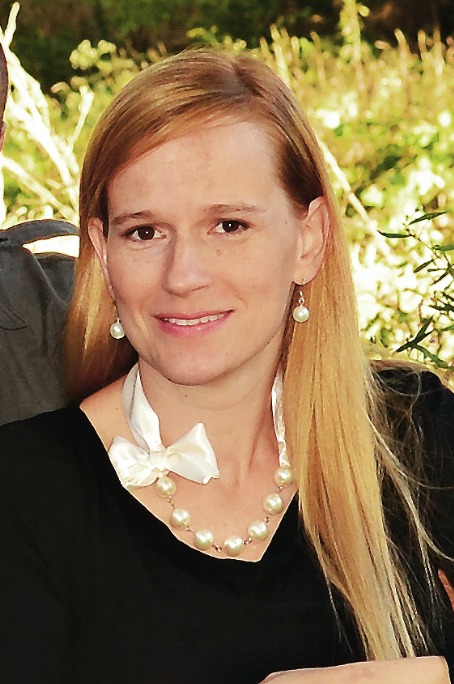 Julie is a stay at home mom to 1 handsome devil, 3 little beauties and a wife to her husband of 10 years. She blogs over at Vibrant Designs, runs a small online business to help pay for the fun things in life, and loves to sew!!
You May Also Enjoy: