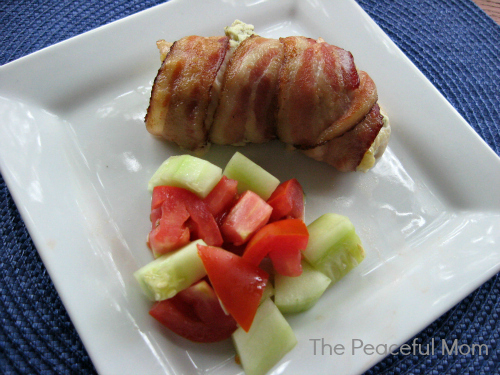 My daughter was looking through my Recipe Binder recently and found this Bacon Wrapped Chicken Recipe. Half of the family loved it, and half were not so impressed. We did find that it was even better reheated the second day.
Try it and let me know what you think.
Bacon Wrapped Chicken Recipe
Ingredients
6 boneless skinless chicken breast halves
8 oz. carton whipped cream cheese with onions and chives
salt to taste
6 bacon strips
Instructions
Flatten chicken to 1/2 thickness.
Spread about 3 tablespoons of the cream cheese over each chicken breast.
Sprinkle with salt.
Roll up the chicken breast with the cream cheese inside.
Wrap chicken with one bacon strip.
Place bacon wrapped chicken, seam side down, into a lightly greased baking dish.
Bake uncovered at 400 degrees for 30-40 minutes, or until juices run clear.
Broil 6 inches from your oven's heating element for about 5 minutes, or until bacon is crisp.
Serve immediately.
https://thepeacefulmom.com/2013/05/15/bacon-wrapped-chicken-recipe-gluten-free/
I'm linking up at Tasty Tuesdays and Gluten Free Wednesdays!
You May Also Enjoy: