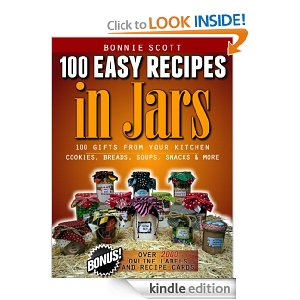 Today (May 11, 2013) only you can download 100 Easy Recipes In Jars
 by Bonnie Scott for FREE (now $3.99).  This 182 page eBook contains recipes for a variety of ideas like:
Cookies
Popcorn Seasoning
Coffee, Tea, Cocoa
Soups
Chili
Nuts & Snacks
Muffins
Bars
Breads
The book also includes photos of the filled jars to give you ideas for how to decorate and personalize the gifts PLUS access to more than 2000 online labels and recipe cards for each gift.
This is a Kindle book but you can download it to your computer or other mobile devices with the FREE Kindle Reading Apps here, including the Kindle Cloud Reader which I use on my laptop and home computer.
Please note that the price of this book is currently $0.00, but could change at any time. Verify the price before purchasing.
Click here to download 100 Easy Recipes In Jars
!
Click here for more DEALS & FREEBIES to help you save money!
*Affiliate links are included in this post. Read our disclosure policy here.