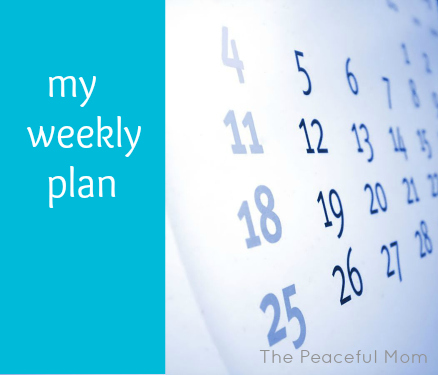 My Weekly Plan– Get organized and simplify your life with a weekly plan!
Every Sunday night I make a plan for my week to ensure that I am focusing on what is truly most important, rather than just staying busy with the demands of life. Take a look at my plan for some ideas to make your own.
Last Week
You can see last week's plan here. I was able to get back on track with my exercise and ran 1.3 miles on my "long" run day (long for me). I had a fun cooking lesson with my 12 year old and taught her how to make french fries at home using olive oil. It is so much fun when my teens can cook for themselves!
I also enjoyed date night with my husband and a fun outing with my teens to see IronMan 3 at a discount theater. I tried to spend as much time with my children as possible knowing that I would be away again this week.
Another accomplishment for me was actually unpacking one of my suitcases completely the first day I arrived home from my trip to Guatemala– a very unusual occurrence for me. 🙂 I didn't unpack the smaller suitcase until last night because I needed it for this week. Oh well, I made a little progress.
This Week
As if life were not busy enough, I am attending a four day conference this week. I am making the sacrifice of time because the conference is going to help me reach some of my business goals.
PERSONAL– (habits that keep me healthy and happy)
walk/run 4 times this week (I am taking my exercise clothes with me. 🙂 )
daily "Brain Dump"
drink 6-8 glasses of water a day
PEOPLE– (activities that promote relationship with the people I love)
date with my husband
driving lesson with daughter (hopefully I can squeeze this in at the end of the week)
dinner with friends over the weekend
PURPOSE– (tasks that enable me to fulfill my purpose in life)
glean everything I can from the conference
work on my business plan
PASSION– (activities and experiences which enable me to enjoy life)
listen to worship music
spend time outside
journal
PROJECTS– (priority tasks that need to be finished this week) 
 I am leaving all of the projects for next week since I will be gone for most of this week.
You can read about my daily "Brain Dump" here"and my Nightly Plan here.

As a gift to my readers, you can now print your own customizable Weekly Plan! Click here and "like" The Peaceful Mom on Facebook to access the download link.
Click the link and type in your info for the week. Once you are done, right click the form to print and check off each task as you complete it.
(You can see all of the FREE printable planners I have available here.)
What do you have planned this week? Leave a comment.
You May Also Like: