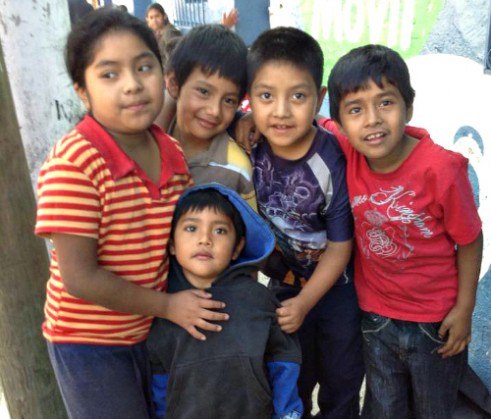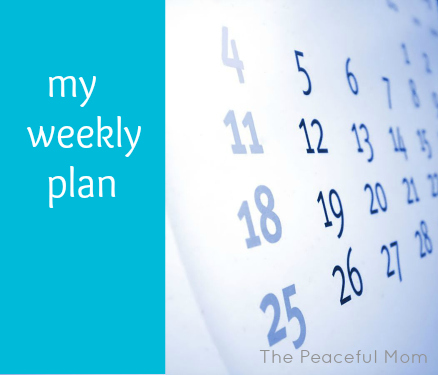 My Weekly Plan– Get organized and simplify your life with a weekly plan!
Making a weekly plan ensures that I am focusing on what is truly most important in my life, rather than just crossing tasks off my to do list.
This Week
I am recovering from my week-long trip to Guatemala where I worked with a non-profit group that helps to feed and clothe some of the poorest children in Guatemala City.
PERSONAL– (habits that keep me healthy and happy)
rest on Monday (I did not get a lot of sleep last week 🙂 )
walk/run 4 times this week
daily "Brain Dump"
drink 6-8 glasses of water a day
PEOPLE– (activities that promote relationship with the people I love)
date with my husband (it was difficult being away from him so long!)
cooking lesson with 12 year old
driving lessons with son and daughter
time with friends over the weekend
PURPOSE– (tasks that enable me to fulfill my purpose in life)
study public speaking tips
finish at least two chapters in a business book that I am reading
PASSION– (activities and experiences which enable me to enjoy life)
listen to worship music
spend time outside
art journal
PROJECTS– (priority tasks that need to be finished this week)
unpack! (I am terrible about procrastinating on the unpacking)
prepare for a conference I will be attending next week
enjoy my family
You can see last week's plan here. I was able to run one day while in Guatemala, and I did lots of walking the other days.
I will be writing more later this week about my trip, but it was a fabulous opportunity to spend time with my American teammates as well as my Guatemalan friends. We were able to show love in tangible ways to some very impoverished children, so I feel that the week was a HUGE success.
You can read about my daily "Brain Dump" here"and my Nightly Plan here.

As a gift to my readers, you can now print your own customizable Weekly Plan! Click here and "like" The Peaceful Mom on Facebook to access the download link.
Click the link and type in your info for the week. Once you are done, right click the form to print and check off each task as you complete it.
(You can see all of the FREE printable planners I have available here.)
What do you have planned this week? Leave a comment.
You May Also Like: