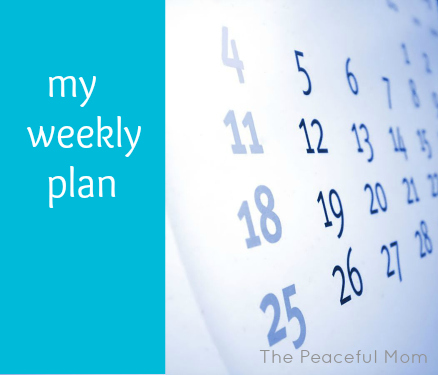 My Weekly Plan– Get organized and simplify your life with a weekly plan!
Making a weekly plan ensures that I am focusing on what is truly most important in my life, rather than just crossing tasks off my to do list.
This Week
I am in Guatemala working with a non-profit group that helps to feed and clothe some of the poorest children in Guatemala, so things look a little different.
PERSONAL– (habits that keep me healthy and happy)
walk/run 3 times this week (not sure how this will work, but I am committed to trying)
daily "Brain Dump"
PEOPLE– (activities that promote relationship with the people I love)
hug lots of Guatemalan children
encourage and help my team
Skype my husband and children at least 3 times
PURPOSE– (tasks that enable me to fulfill my purpose in life)
study public speaking tips when I have spare time
write future blog posts if I have extra time
PASSION– (activities and experiences which enable me to enjoy life)
read at least 1 chapter a day
listen to worship music
spend time outside
PROJECTS– (priority tasks that need to be finished this week)
none except to enjoy my time in Guatemala!
You can see last week's plan here, as well as my How to Pack 5 Days of Clothes in One Carry-On Bag post here for some packing tips.
You can read about my daily "Brain Dump" here"and my Nightly Plan here.

As a gift to my readers, you can now print your own customizable Weekly Plan! Click here and "like" The Peaceful Mom on Facebook to access the download link.
Click the link and type in your info for the week. Once you are done, right click the form to print and check off each task as you complete it.
(You can see all of the FREE printable planners I have available here.)
What do you have planned this week? Leave a comment.
You May Also Like: