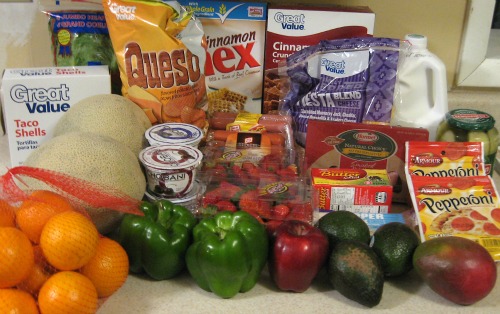 Friday Shopping Totals: You can save BIG on your grocery purchases! See how I feed my family of six (including 3 teens) for around $125/week. See our $125 Budget Weekly Menu here.  
To save time, I did most of my shopping at Walmart this week.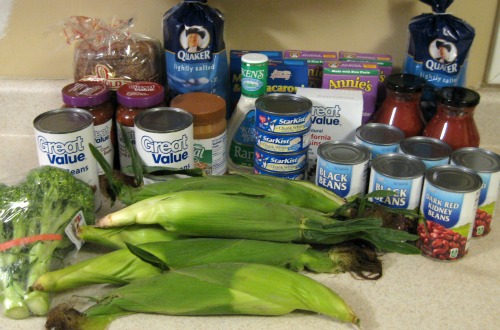 WALMART part 2 (part 1 pictured above)
I took advantage of the  Walmart Ad Match Guarantee to purchase ground chuck for $2.59 a pound which is a super low price for our area. [Read more here about how I prepare and cook all that meat.]
WALMART-–Total Spent $175.65.  
 I also purchased a 32 oz. container of Stonyfield Organic Yogurt, 3.5 lbs of bananas and 2 packages of Lender's bagels which are not shown in the photo.
Weekly Total: $175.65 
April Monthly Total: $428.98    
($125/week budget for six people–I am over for the week because I am buying almost two weeks worth of groceries so I don't have to go to the store for the first couple of days after I return from Guatemala. I am under for the month ($500 budget), though–woohoo!)
Join us for The Peaceful Mom Save Money On Groceries Challenge! I share one tip to implement each week so you can start saving right away! Click here to see the current Save Money On Groceries Tips.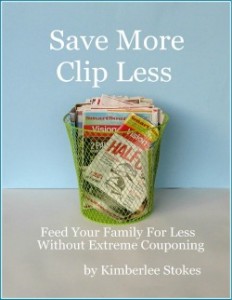 Read more about how I stick to a $125 a week budget in my Save More-Clip Less e-book!
Click here to see what others are saying.
Click here to see previous week's shopping trips.
Were you able to stick to your budget this week? Leave a comment!
You May Also Enjoy: