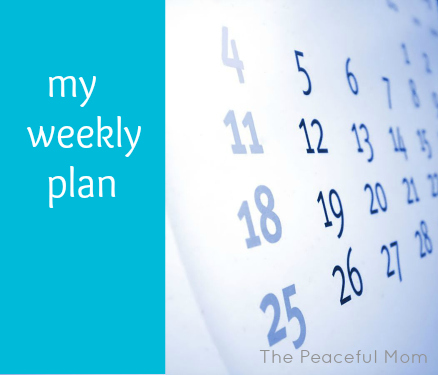 Get Organized! Need to get organized so you can get more done? Make a weekly plan!
Here's a peek into my plan for this week with 12 things I'm getting done:
PERSONAL– (habits that keep me healthy and happy)
PEOPLE– (activities that promote relationship with the people I love)
date with my husband
driving practice and ice cream with daughter #1
date with daughter #2
PURPOSE– (tasks that enable me to fulfill my purpose in life)
write (2) guest posts
register for public speaking class
PASSION– (activities and experiences which enable me to enjoy life)
read at least 1 chapter a day (I have about 20 ebooks I want to read)
spend time outside
PROJECTS– (priority tasks that need to be finished this week)
complete radio interview
make detailed lists for my husband for the week I will be gone
You can see my plan from last week here. My exercise plan was an epic fail, but I did get away  to the botanical gardens for a few hours which saved my sanity! 🙂

As a gift to my readers, you can now print your own customizable Weekly Plan! Click here and "like" The Peaceful Mom on Facebook to access the download link.
Click the link and type in your info for the week. Once you are done, right click the form to print and check off each task as you complete it.
(You can see all of the FREE printable planners I have available here.)
What do you have planned this week? Leave a comment.
You May Also Like: