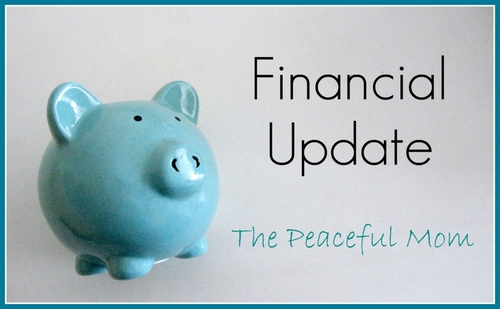 In conjunction with the Living on Less Than $28,000 A Year series, I started sharing periodic Financial Updates about our family's finances. I don't always give specific numbers, but I thought it might be helpful for those of you in a similar situation to take a peek at how things go at our house.
Spending
March was a good month for us in that most of our expenses were close to our budgeted amounts. We spent $61 on toiletries and household items ($50 budgeted) including a great deal on toilet paper from Amazon (48 double rolls of Angel Soft Toilet Tissue for just $21.50 shipped or just $.45 cents per double roll!). 
Our utilities were $270 ($300 budgeted) and we spent $615.90 on groceries, which was slightly under budget ($125 per week) because there were five Fridays in March. We did spend $100 on eating out with friends a couple of times, but we budgeted ahead of time for those outings.
I also spent $53 on a piece of luggage for my upcoming trip to Guatemala (read more here). I normally check the thrift store first, but I was looking for some very specific features, so I purchased it at a discount luggage store.
Saving
The good news is that we were able to save $500 over the past couple of months toward a needed car repair. The bad news is that when we took the van into the mechanic, the problem was worse than was first diagnosed and we are a one car family again (read more here).
Since we did not spend the car repair money, we rolled it over to our emergency fund which now has $1600.
April Goals
We will keep adding money to the emergency fund to get to the $2000 mark, and then start saving for another vehicle.
In the meantime we also have my son's graduation party to plan and pay for. With our current financial situation, we will be having a very low-budget party in our home rather than a bigger celebration in a rented facility. The important thing is for my son to feel loved and to have fun with friends and family, not the amount we spend on the party.
Were you able to meet any financial goals in March? Leave a comment so we can encourage each other! 🙂  
(Email readers will need to click through to the blog to leave a comment.)

You May Also Enjoy: