This week for Healthy Living Month, we are talking about ways to get your body moving for less. (Read all the Healthy Living posts here.)

Today's post is written by David who blogs at Family Fitness Home. He is a personal friend of mine and has a great vision. You should check him out. 🙂
________________________________________
FRUGAL FITNESS: WORKOUT FOR LESS
The idea of frugal fitness is somewhere between "Ohhh! Shiny!", and meager existence. That's a big gap, so where is the sweet spot when it comes to your fitness? I'm glad you asked. Here are some options:
Run / Jog / Walk
A great option because you can start with just an investment of time and it can be done practically anywhere, anytime. I have literally pulled off of the road in traffic and gone for a run, and I once ran an impromptu 5K at a conference in my Levi's.
TIPS
Find a friend with experience. Most runners I know are happy to share their knowledge, and there are tons of meetups and running clubs that you can join to find friends.
Multi-task. Use your running time to listen to a podcast or an audio book, and have your kids (or significant other) ride along on their bikes.
Be patient and consistent. Too much too fast will injure you, and unless you are under 25 and elvish, it will take time to run well and enjoy it.
Start cheap. Everyone wants to sell you shoes and stuff. I say just start with what you have.
Video/DVD
Online videos and dvds are an extremely economical choice with almost unlimited options.
TIPS
Search for free workouts. Many workouts are available online for free and you can also download free apps for your smart phone or tablet. (Check out the Tabata workouts here.)
Plug in. If you have the capability, plug your phone into the tv so that others can join you.
Check the library. Many libraries have entire sections devoted to exercise dvds and you can check them out for free! You can also look for workout dvds in the discount bins at Walmart and other stores.
Sports & Recreation
My favorite way to workout because you can build good friendships around activities like soccer, hiking or even triathlon.
TIPS
Find meetup groups. Many groups are available that will let anyone join for free. Search online or check local papers, community boards and gym bulletin boards.
Make a standing appointment. Schedule a weekly time with a friend to play basketball or tennis.
Use public facilities. You may find options like a racquetball or basketball court, or a pool in your area that you can use for a very small fee. Check with your city or county recreation department. They may also offer fitness classes for a very reasonable price.
Affordable Gym Options
If you are a person who gets bored easily, a gym can keep you interested. Be aware, however, that the majority of people quit after a few months, but their payments continue due to their intention to return or a bad contract.
TIPS
Use a Mini Gym. $15 to $25 per month. These self-serve gyms are quickly becoming ubiquitous. That means they are turning up everywhere, like old friends on Facebook.
Skip the Extras. If you do use a standard franchise gym ($20-$50 per month), don't pay extra for guest privileges or family membership. You can pay a small fee for guests per visit, and most clubs will give guests a free pass.
Find individual classes. If you use the gym primarily to attend fitness classes, it may be more affordable to find classes like Zumba offered outside of the gym.
Barter. You may find a personal trainer in your area who is willing to accept partial payment in the form of barter, so if you have skills that you can trade, explore this option.
If you have never worked out before, keep these things in mind:
You can be fit and not healthy. Exercise and nutrition are the knockout combination.
Disease and hospital care are more costly than fitness.
Keep it simple. Start with a goal and make a plan.
Start now, do what you can today. Then do it again tomorrow.
Recruit your friends and family.
As you can see, there are lots of options to workout for less, so find what works for you and start today. Making fitness a lifestyle helps me look forward to getting up every morning, and you can feel that way too.
What's your favorite way to workout for less? Leave a comment. 🙂
_______________________________________________________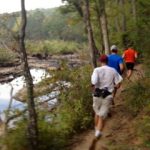 David Turnbull is a midlife dad exploring ways to make fitness a fun lifestyle. Starting at 45, he has become a podium triathlete and marathon runner. His goal is to trek the length of the Great Wall of China as a goodwill ambassador. Follow him at Family Fitness Home.
You May Also Enjoy: