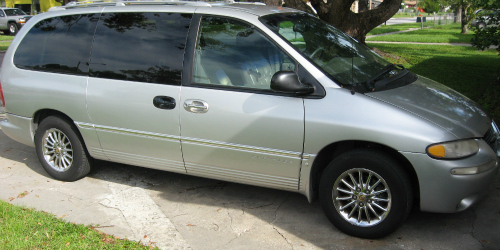 If you've been following The Peaceful Mom for a while, then you know that after being a one car family for almost a year, we were finally able to purchase a new-to-us van for cash. We were pretty excited and have enjoyed the luxury of having transportation available at a moment's notice.
Unfortunately, the party came to an end this week. 🙁
We took the van in to a mechanic because of some noises we were hearing and discovered that we need $2000 worth of repairs. When we took it to another mechanic for a second opinion, he confirmed the $2000 worth of repairs, but added that the engine needed to be repaired or the van would stop running soon. Repairing the engine requires another $2000 because there are no after-market parts available for our model.
We drove the van home to give us some time to decide what to do, and when we tried to start it the next time, it was dead. The good news is, the mechanic was right. The bad news is that now we have a van that costs more to repair than it is worth.
So…we will be a one car family until we can save for another vehicle, and hopefully we can sell this one for a few hundred dollars. I am thankful for the time we have had it, and as our mechanic said, ALWAYS bring the vehicle in for a mechanical check before you purchase it. Lesson learned.
Have you ever made a purchase that turned out to be a lemon? Leave a comment, so I don't feel so badly. 🙂