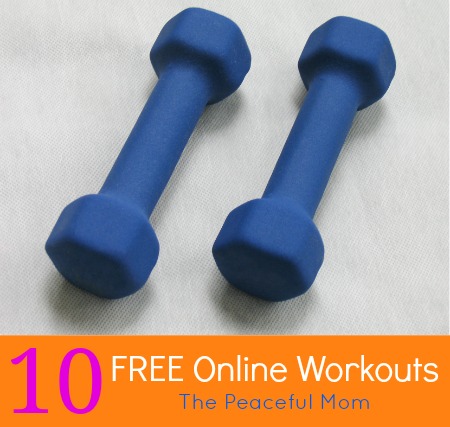 10 FREE Online Workouts 
Living on less doesn't mean you can't stay fit. With these free workout options, you can no longer let your budget be an excuse for not working out. :)(See all the Healthy Living Posts here.)
[Please Note: I am in no way affiliated with any of these sites and have only looked at them briefly. I am listing them here to give you an idea of the variety and scope of free online workouts. You should do your own research of course, and be sure to check with your physician before beginning any exercise program.]
iBodyFit.com–i Body Fit is a subscripton-based website, but if you click the Free Online Workouts link here you can find a variety of workouts including 10 minute targeted workouts for those days when you are short on time. Some of the workouts seem pretty basic and some require equipment like 3 lb weights, but overall a great place to start.
Jenny Ford Fitness – Great step and cardio workouts. Rated in Shape magazine's Top 10 Best Workouts on You Tube.
SparkPeople– Several workout videos divided into categories like cardio, abs and yoga. You can also join free to use their multitude of personal trackers and join a huge community of people for support.
PhysicalFitNet.com– Created for fitness professionals with over 800 videos, but now available to the general public. You can even click a body part to view videos for the corresponding muscle group.
Ultimate Pilates Workouts– Former Radio City Rockettes, Katherine and Kimberly Corp own a pilates studio on Fifth Avenue in Manhattan and created pilatesonfifth.com. The main website is for the studio, but click the Online Workout link here and sign up for the Basic Membership (no credit card or commitment required) to receive access to 8 Pilates videos.
Real Hollywood Trainer–New 40 minute cardio workout video every Monday. Variety of classes, some of which focus on women.

Fitness for Ipad–This app offers more than 700 different individual exercises with 40 ready made workouts. Each of the exercises comes with both audio and video instructions to enable you to do each exercise correctly. You can also build your own workout routine, track your calories and food intake. Many of the features require a premium account, but it's worth downloading if you want to know how to do some exercises to target specific areas of your body.
Fitness Magazine- Several free workout videos including an Ultimate Ab Workout and Total Body Workouts, and workouts by celebs like Bob Harper from The Biggest Loser. You do have to watch commercials before the videos start.
Warrior X Fit– 20 minutes martial arts workouts combining strength and cardio, but without requiring any special equipment. You have to join this site to gain access to the videos, but membership is free.
Be Fit– Hundreds of workout videos by professional trainers like Jillian Michaels. Most of the videos are free, but you do have to pay for some of them.
You can also check out my friend David's favorite FREE Workouts here. He is a triathlon runner.
Do you have any favorite FREE workout resources? Leave a comment.
You May Also Enjoy: