Healthy Living: Easy Ways to Destress–It's Healthy Living Month on The Peaceful Mom and we are talking about ways to nourish our bodies, nurture our souls and refresh our spirits. This week I will be sharing some easy ways to destress. (Read all the Healthy Living posts here.)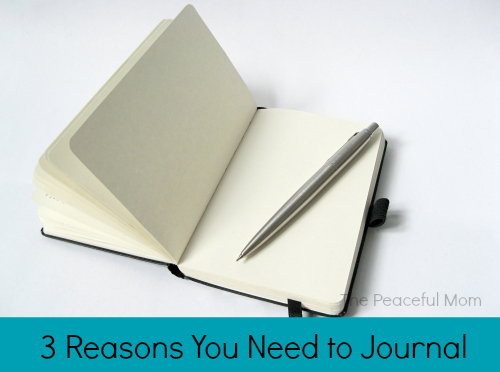 One of my favorite ways to destress is to spend time daily or weekly writing in journal. There are multiple benefits from journaling.
Improve Your Health
A research study from St. Joseph University in Philadelphia revealed that study participants who wrote about problems and possible solutions improved not only their psychological health, but their physical health as well. Pent up stress can lead to a multitude of health problems, but journaling can be a great way to relieve those symptoms.
Clear Your Mind
Personally, journaling helps me to sort through my thoughts and bring clarity to the confused jumble of stuff in my head. One practice that has helped me to focus better is my morning Brain Dump (read more here). I am not much of a problem solver late at night, but I find that if I write down everything on my mind first thing in the morning, I can make sense of life and make an efficient plan for my day.
Express Your Emotions
Journaling on a regular basis can help you be more in touch with your feelings. It can also help you to sort through issues you have with other people, enabling you to talk to them more about the facts of the situation and less about the heated emotions you were feeling.
If you'd like to try journaling, read my post here for some ideas to get started.
You May Also Enjoy: