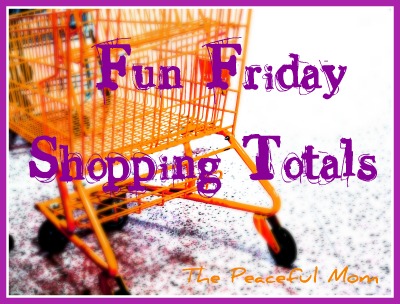 Fun Friday Shopping Totals: See how I feed my family of six (including 3 teens) for around $125/week. See our $125 Budget Weekly Menu here. 
for ways to save money,

get organized

and enjoy life

sent right to your inbox!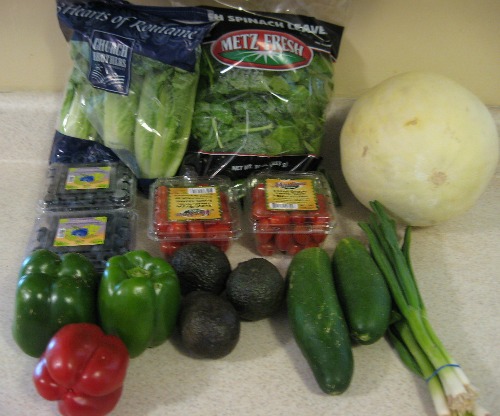 PRODUCE MARKET–Spent $20.71.
Grocery Saving Tip: Check local produce stands and ethnic markets. They often have much lower prices on certain items than chain stores.
My grocery shopping for this week started at my local produce market this week where I found:
HUGE honeydew melon $1.89
green peppers 33 cents each
blueberries $2.49/ pint
Haas avocados 50 cents each
grape tomatoes $1.49/pint
cucumbers 50 cents each
green onions 35 cents each
These are all super low prices for my area.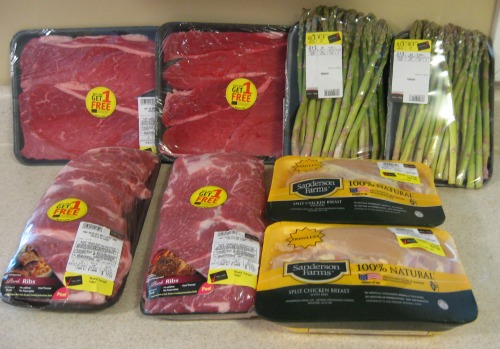 WINN DIXIE–Spent $37.87.
Grocery Saving Tip: Buy meat at it's lowest price and freeze it for later. I found this thin sliced round steak for $2.45/lb. It's a great price, so even though it wasn't on the list, I purchased some to go in the freezer.
We are about to use the last of our $.99/lb chicken breast from the freezer, so I picked up some chicken breasts for $1.99/lb. It's not the lowest price ever, but it is the lowest price for this week. I also purchased country style ribs at $2.18/lb, which we will eat this week.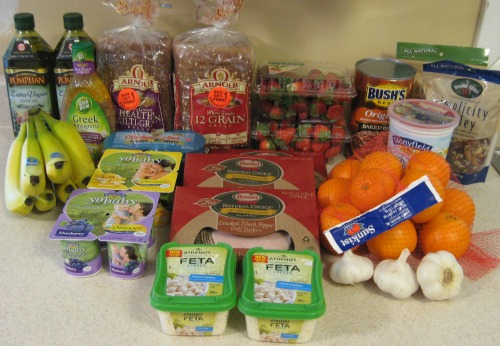 PUBLIX-–Spent $39.80.  
Grocery Saving Tip: Plan your weekly menu around super sale items. I will be using the Buy One Get One Free Feta in our Greek Pasta Salad for this week and the $1.67/pint strawberries in our Baked Oatmeal (see my menu with recipe links here).
My total was actually $64.80, but I had a $25 Publix Gift Card that I received from General Mills so I spent less than $40 out of pocket.
Then I ran out of steam, so I did not get the cabbage and red potatoes as well as a few other things I had planned to price match at Walmart. I adjusted the menu so that we will be skipping the coleslaw when we have ribs and I will be serving rice with our roast rather than red potatoes.
Weekly Total: $98.38. 
March Monthly Total: $246.59    
($125/week budget for six people, so I am just under budget for the month.)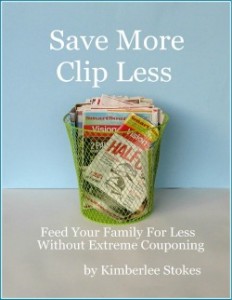 Need to lower your grocery bill? Read more about how I stick to a $125 a week budget in my Save More-Clip Less e-book.
How did you do this week? Leave a comment!

Related Topics:
Click here to see previous week's shopping trips.

You May Also Enjoy: