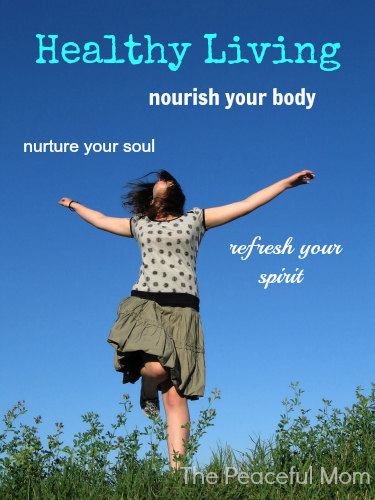 What is the Paleo Diet?
As part of Healthy Living Month on The Peaceful Mom, I will be sharing some ideas for nourishing your body. [See all the Healthy Living Posts here.]
You may have heard something recently about eating "paleo", or noticed the increase in Paleo Kindle ebooks. So what is the Paleo Diet?
The Paleo diet (sometimes referred to as the "Caveman Diet" was created by Dr. Loren Cordain who after years of scientific research theorized that eating real, whole foods from the food groups available to our ancestors during the Paleolithic era would prevent common modern health problems such as heart disease, diabetes and obesity.
Followers of the diet eat meat, fresh vegetables and fruits, and avoid all processed foods, grains (including rice, oats and corn) and dairy products.
I am personally not a fan of "diets", but believe that you should maintain a lifestyle of healthy eating. I find for myself that I have to make positive changes slowly over time for them to work. My diet isn't perfect by any means but I am headed in the right direction, and eating far better than I did a few years ago.
I think that the Paleo way of eating might be a little difficult to maintain long term because of all of the restrictions, but it could work well for some. I know that my daughter feels so restricted by having to eliminate wheat that she would feel deprived if we had to eliminate rice and corn as well, plus we are serious cheese eaters. Finding good recipes would be key to sticking to the plan.
For those of you who are gluten free due to allergies, you may want to try the Paleo diet for a short period like a 30 day cleanse. Dairy products are a known allergen and going dairy free might help to eliminate some health problems.
If you decide that you would like to try eating paleo, here are a few resources to get you started:
Click here for some Easy Paleo Diet Recipes on The Peaceful Mom.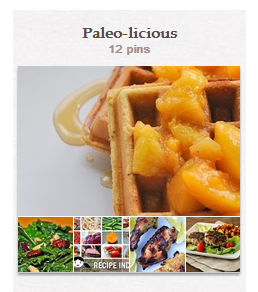 I will be pinning recipes that look easy and tasty to my Paleo-licious Pinterest Board if you'd like to follow.
You may also want to try eMeals* new Paleo dinner plan that includes 7 dinner meals complete with recipes and a grocery list. A 3 month subscription is $21, or just $7 a month, and the price drops to $5 a month for a 12 month subscription.
My readers can get an additional 10% off by using promo code PEACEFUL at checkout.
Click here to see a sample plan.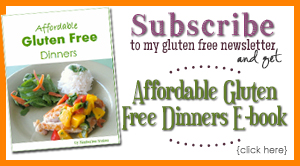 Subscribers to my Gluten Free Newsletter will be entered to win 1 of 4 (3) month eMeals subscriptions including Gluten Free or Paleo plans!  Click here for details!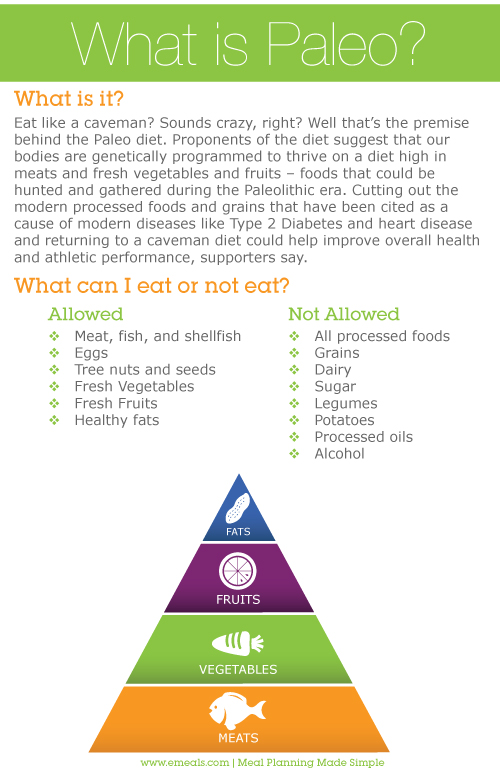 Click here to print the free What to Eat on the Paleo Diet graphic from eMeals (pictured above) to help you remember what you can and cannot eat on the Paleo Diet.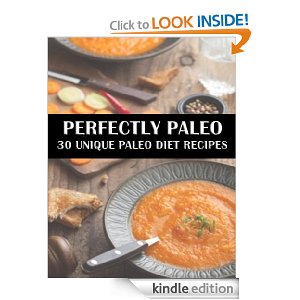 Another great resource is Perfectly Paleo– 30 Unique and Delicious Paleo Diet Recipes for $2.99. You will find recipes like Banana Pancakes, Pumpkin Muffins and Strawberry Crepes all made without grains so they are gluten free as well.
The book includes breakfast, lunch, dinner, snack and dessert recipes that all look simple to prepare and which are all grain and dairy free.
This is a Kindle book but you can download it to your computer or other mobile devices with the FREE Kindle Reading Apps here, including the Kindle Cloud Reader which I use on my laptop and home computer.
Click here to download Perfectly Paleo.
Coming soon: Paleo On A Budget–Tips to Make the Paleo Diet More Affordable.
Have you tried the Paleo Diet? What do you think?
Leave a comment. 🙂
Please Note: The contents of this post are not intended as medical advice, but are simply the author's opinion. You should seek professional medical advice if your situation requires it.
Affliliate links are included in this post. Read our disclosure policy here.