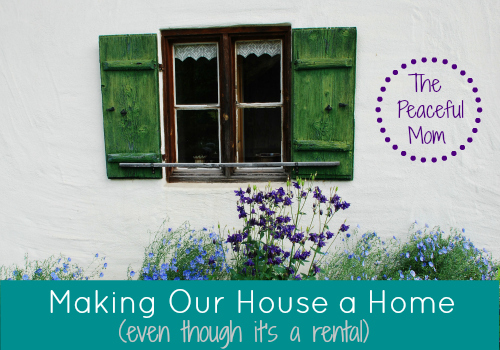 Making Our House A Home (even though it's a rental)–Follow my journey in turning our house into a home.You can read other posts in this series here.
I shared in my last post that reading 31 Days to a Heart of Hospitality by Edie Wadsworth changed the way that I think about my home.
One aspect of the book that made a big impact on me is the idea of the master bedroom as sacred space that should be a haven rather than just another room in the house. Having a peaceful bedroom is not a new concept to me, but it was honestly a lower priority to me because it is not a room that guests see very often.
So here it is in all it's ugly glory: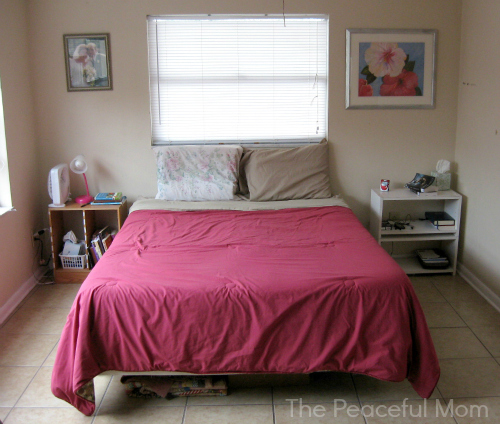 You will recognize the floral print that I upcycled here, but very little decoration otherwise. The nightstands were curbside finds that we were using temporarily, so I didn't even take the time to remove the stickers from mine (it must have been used as a mail sorter in its previous life). I'll talk more about this in a later post, but the mattress is borrowed from a friend's RV camper.
One thing that you need to know about me is that when I get an idea for a project, I throw myself whole-heartedly into it. I am also a recovering spend-a-holic.
My normal mode of operation would be to finally get fed up with the current state of our bedroom and splurge on a major overhaul using the emergency fund. Decorating constitutes an emergency, right?
I have learned that things go much better if I wait patiently and change things over time.
So in this instance I waited, and it paid off.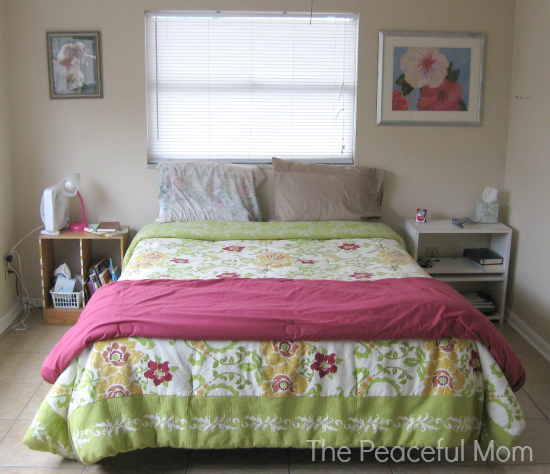 Bedroom Makeover Phase 1: Find a nice bedspread.
Since the bed takes up most of the room, changing the bedspread makes a big difference. I found this little beauty at a thrift store a couple of months ago and talked the manager down to $15 because it had a small stain in the center. I then paid $19.99 to have it professionally cleaned.
It is a king size, but we knew we wanted to get a king size mattress and if you turn a king size comforter sideways on a queen size bed, it fits without touching the floor.
Granted the room is still ugly, but my first investment of $34.99 really perks up the space.
Do you think of your master bedroom as sacred space? Share a comment. 🙂
Click here for Phase 2 of the Master Bedroom Makeover!
[Click here to read all the posts in this series.]