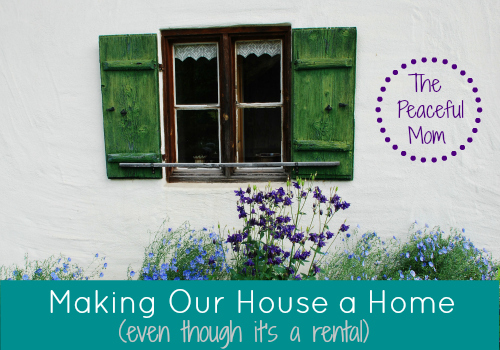 As I mentioned in my last post, our family has been in the process of "rebuilding" after we sold practically everything we owned and moved to pursue a job opportunity.
When our plans changed, we had to immediately find a job for my husband and a place to live for six people. Thankfully a a friend's church graciously allowed us to stay in a furnished house for the first 5 weeks while we were in literal survival mode acquiring beds for everyone, dishes to eat on, towels, etc. 
Once we were able to move out on our own, we found a condo in our price range and moved in, but we knew it was temporary so I continued with my "survival" mentality.
Finally in April of last year we were able to move to a house. It is still a rental, but I began to get beyond the basic needs of our family and branch out into the idea of decorating a little.
Then I read a book which changed my thinking about my home altogether.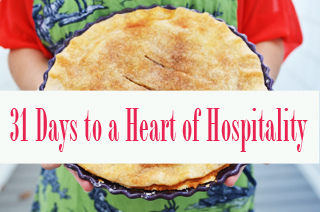 In 31 Days to a Heart of Hospitality*, Edie Wadsworth challenged me to think of my home as not just a place where things could look neat and pretty, but a place where I could create a feeling of warmth and welcome for my family and our guests.
 "Hospitality, in the truest sense, is our need to be known and loved—to really be seen.

It is not primarily the opening of our homes but the opening of our hearts to receive others.
…
This kind of hospitality doesn't require a perfectly ordered guest room or a gourmet meal; it
requires an open heart, a heart willing to really see someone else and welcome him."

—Edie Wadsworth, 31 Days to a Heart of Hospitality
As I read the book, I had several revelations.
My Living Space Is Spiritual
The rooms of my house are not just a place where we do everyday activities. My house is a spiritual space that I can use to create feelings of peace, comfort and love in my family first, and my guests as well.
Many of you are well ahead of me in this line of thinking and have made your homes a beautiful and welcoming place. It took some time, but I'm catching up to you now!
Decorating Isn't About Money
No matter what my circumstances are, there are inexpensive things that I can do to make our home more personal, beautiful and inviting. It's not about how much money I spend, but more about making the space comfortable, colorful and filled with a sense of who we are as a family.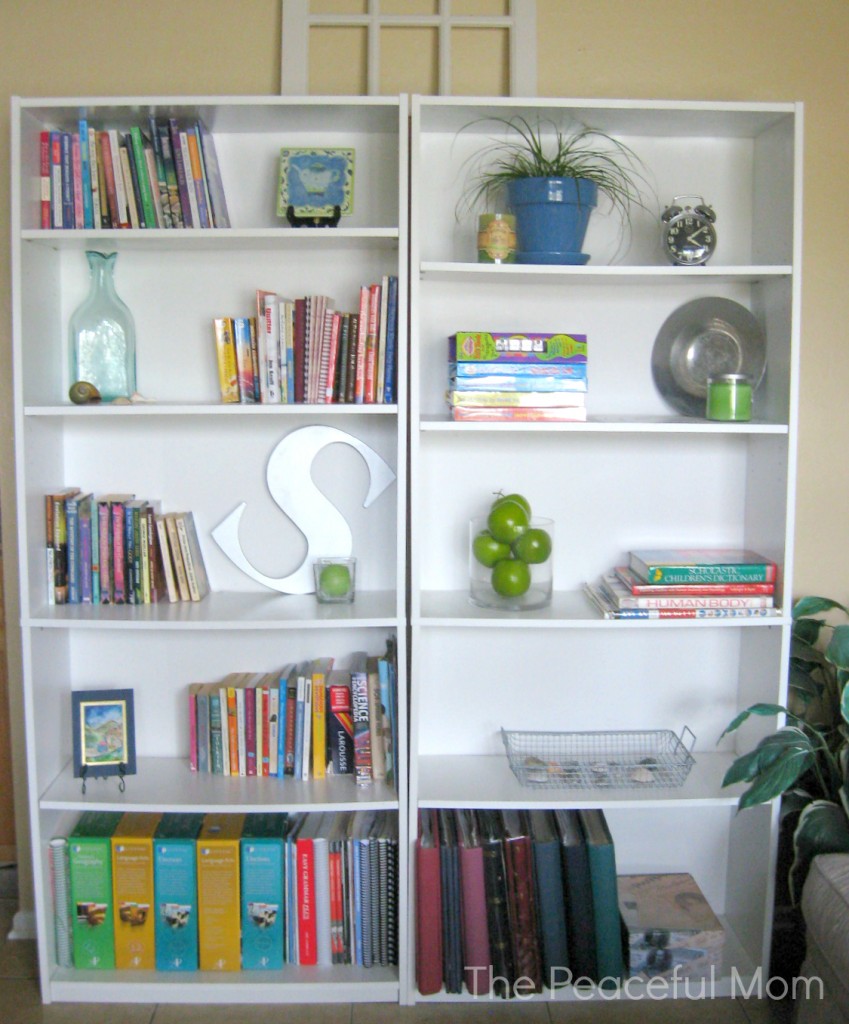 The items on my newly re-decorated shelves don't just look pretty, they have meaning for us. The tile on the top left was a gift from my mother; the watercolor on the lower left was painted by my sister; the shells in the basket and on the shelf were collected by our family on trips to the beach (one of our favorite places).
Other items were found at thrift or discount stores, but they each have meaning. The clock on the top right, for example, reminds me of my grandmother's bedside clock which I often looked at when she made me nap in her bed as a child.
Less is More
While I am working on decorating our house, I am also working diligently to get rid of anything that isn't useful or beautiful. (You can read my 10 Minutes A Day Decluttering progress here). I can easily fill my house with stuff, but my goal is not so much to acquire material objects, but to use those objects to achieve a higher goal: making people feel loved and welcome in my home.
Sometimes the best idea is to get rid of things in our home so that we can make it a more restful place with open spaces and clear surfaces rather than a cluttered, disorganized collection of decorative items scattered about.
My Attitude is Key
More important than any of the stuff in my house, is my attitude. Am I welcoming and receiving my family and friends? Do I make them feel as if they are important and loved, or do I take them for granted?
And this is the most difficult part for me. I am an achiever. I like to make a list and draw a line through every item by the end of the day. I can see people as a hindrance to getting those items done instead of viewing them as the precious treasures that they are. So I will be praying for a heart change in this area.
So where are you in this process? How have you made your home a welcoming place? Leave a comment.
In my next post (click here to read part 3), I will share one thing from Edie's book that made a huge impact on me, and helped me in my quest to make my house a home.
[Click here to read all the posts in this series.]
*31 Days to a Heart of Hospitality is an unapologetically Christian book. For my readers who are not Christian, you may want to skip those parts of the book and read the chapters that give you specific tips like setting up a beverage center and baking center in your home, or how to stock your guest bedroom and bathroom.