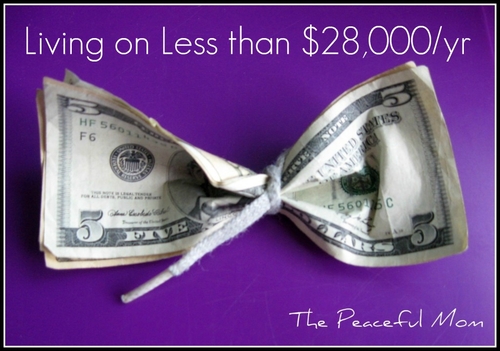 I received this comment from a reader this week on my first Living On Less Than $28,000 A Year post:  
 Reader Comment:

Funny, not one male comment or bad comment. Out of all of them, I count four women that actually work (three cause there isn't a man, one is a single mother of…three..?) I see a d*** pattern here, you are capable of working and don't and use your amount of kids as a d*** excuse.

Your husbands must be ready to put a gun in their mouths cause no matter how hard they try to move forward you keep dragging them backwards and use the kids as an excuse and "cutting back" as a solution, I for one know what that means… The man gets crap to eat, gets to see none of his paycheck, has nothing of his own, gets stupid s*** like regifted ties or "crafty" things for gifts on any holiday while the wives have nice outfits and a closet full of shoes (they have no real place to wear much less wear) and the kids have an Xbox and the newest Nike shoes… It's great being a man in this world (and we are the ones that are called names.)
I thought about his comment for a little while and then replied.
My Response:

Hi L.! I am so sorry that you had such a bad experience. It is definitely wrong for a woman to use a man to work to pay for expensive items she and her children want while never paying attention to her husband, or making sure that his needs are met.

As for our house, the decisions about what we do with our money are made mutually. There are times when my husband makes a sacrifice, but he does it because he wants to for the sake of the children or for me. We each have a little "free" money that we can spend however we want. It may not be much but it's ours to do with as we wish. We also make sure that his needs and some of his wants are met.

I don't know you, but it sounds like your household was out of order with your wife making a lot of decisions without considering what you wanted or needed. I am sincerely compassionate toward you and your situation and wish that things had gone differently for you. For anyone else reading this comment, I hope that you know that all of your financial decisions should be made together as a couple and you should always make sure to consider what each partner needs.
I would love to know what you think. I would especially love for some husbands to chime in here about how they really feel about living on a budget and whether or not this has been their experience. And for the wives, is this how things go at your house?
Leave a comment. 🙂
I welcome all comments, but please remember to be courteous in expressing your opinion. Thanks!