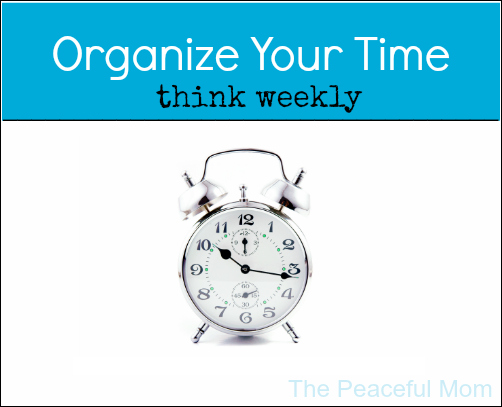 Organize Your Time: Think Weekly
I don't know how things go where you live, but life at our house can easily spiral out of control. Between dealing with teenage hormones, a child with special needs, homeschooling and working from home (never mind cooking, cleaning and grocery shopping!), I can stay in a constant tailspin if I'm not careful to organize my time well. One of the key strategies in my self organizing system is thinking about my life one week at a time.
I moved to a weekly plan format a couple of years ago because I found that when I made a daily plan, I tended to miss the big picture. I focused on the daily to do list like figuring out dinner, errands I needed to run, etc..
Whatever screamed the loudest received the attention that day: email, phone calls, smoke billowing from the oven (it only happened once!). When I make a weekly plan I find it easier to focus on what is truly important to me, but I am still able to fit in all the daily to do's.
If you've been around very long then you have seen the metamorphosis of my weekly planners.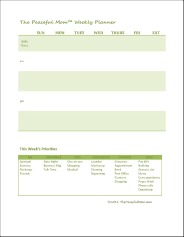 I first used a general form which gave a basic rhythm to my week, but which was not time specific. (Click here to view and print.)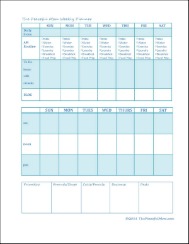 I then moved to a more specific and structured form. (Click here to read more and print.)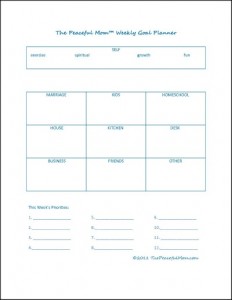 I also tried a Weekly Goal Planner. (Click here to read more and print.)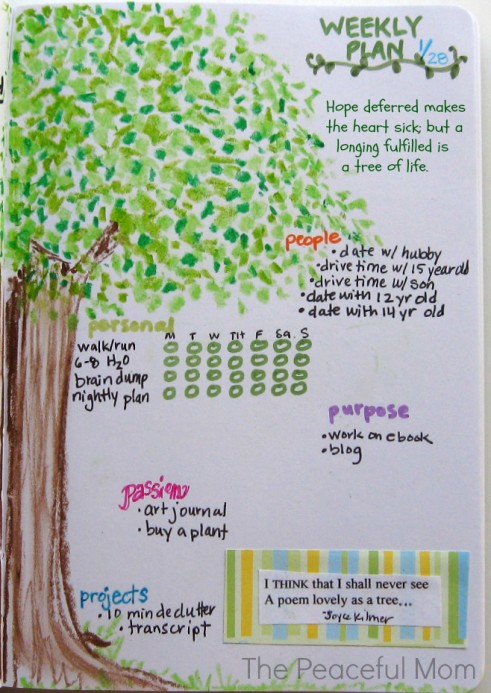 I am currently writing and illustrating my plan by hand each week because writing it makes a bigger impression on my brain than typing it and using all that color makes me happy. 🙂

You can print a similar customizable version of my latest planner by clicking here and "liking" The Peaceful Mom on Facebook. 
Click the download link and type in your info for the week. Once you are done, right click the form to print and check off each task as you complete it.
(You can see all of the FREE printable planners I have available here.)
The planners that I use may not work for you, but if you would like to live a more peaceful and joyful life, you will want to find a planning tool that does work. Living intentionally each week will enable you to reach your goals and enjoy the best possible version of your life!
Do you plan weekly? How does it help you? Leave a comment. 🙂

You May Also Enjoy: