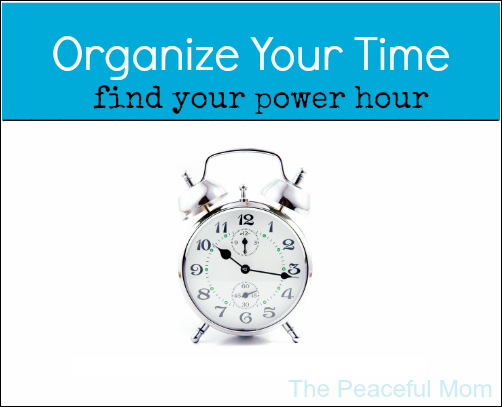 Organize Your Time: Find Your Power Hour
It might seem that as much as I write about organization, I am a genius at it. Um…not so much. I am constantly adjusting and trying to find the best self organizing system so I can streamline my life and make sure that I am truly living my priorities. This week I am sharing a few of my top tips for organizing your time, so that you can live on purpose too.
Based on reader feedback, one of the most difficult parts of organizing your time is prioritizing and staying focused. Today's time tip can help you with both of those issues.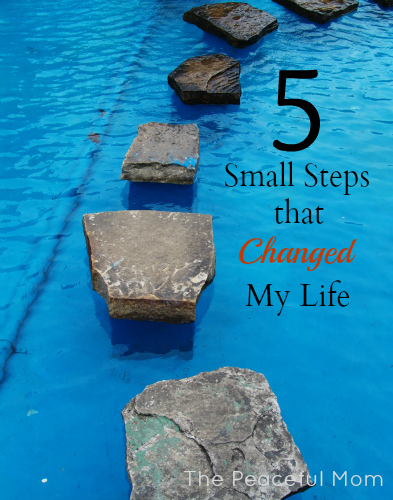 As I mentioned in my 5 Small Steps That Changed My Life post here, scheduling and taking advantage of a Power Hour every day has enabled me to be much more productive.
The basic idea of the Power Hour is to take one hour during the day where you shut everything off (email, Facebook, phone, etc.) and focus on your most important tasks. During my Power Hour, I focus on my most brain-intensive work such as writing, balancing the checkbook and planning–the tasks that require me to be at my best. I can accomplish much more by making this time a priority and then I can be more relaxed the rest of the day knowing that my top priorities have been accomplished.
If you would like to incorporate a Power Hour in your life, here are a few tips:
Determine Your "Prime Time"
Everyone has certain times of the day they you function better and think more clearly. To make the most of your Power Hour, schedule it during your "prime time".
If you are a morning person, get up early to make time for organization and planning tasks. If you are a night owl, turn off the t.v. and work on the tasks that need to be accomplished. If you are a mom with young children, you may find your best time to get some work done is naptime for your children.
Determine Your Brain Drains
Brain Drains are those tasks in your life that make you tired just thinking about them, or which require the most concentration and brain power to complete. Take a look at your life and honestly assess which tasks are the most important and which require the most thinking.
Paying bills, balancing the checkbook and making a weekly meal plan are all great tasks for the Power Hour. You can begin thinking about what these tasks are in your life and as you move through each day this week, keep a running list. Find those tasks that you continually postpone because they require more energy than you have at the moment. Add those to your list as well.
Make Your Power List
To make the most of your Power Hour, you should have a prioritized list of tasks that need to be completed. I personally have one notebook that I write everything in. Each morning (or the night before) I choose the tasks that are most important for the day and write them on my calendar in order of priority. Then I work through the list item by item. It's important to gather all the materials you need for the tasks on your list before you begin your Power Hour, so you can be as efficient as possible.
Protect Your Time
The most difficult but essential aspect of using the Power Hour is eliminating all possible distractions –close the email, turn off the phone, close the door. Decide your plan for the day and commit to focus on just what you have on your list during this time. If you find that the time of day you first choose is a time when others are likely to disturb you, consider changing your Power Hour to a different time of day.
Using a Power Hour can be one of your most powerful time management tools, but I do have one caveat. If you are a mom with small children, you will probably find it difficult to find an entire hour every day when you are left alone. 🙂 Just remember that this is a short season of life when you are investing in your children and there will be lots of time later to accomplish big projects. You can find small bits of time when the baby is sleeping, swinging or playing quietly in a play pen. You can read more about how I handled life at that stage in my post How I Survived Four Kids Aged 5 and Under.
What do you think? Are you ready to try the Power Hour? Leave a comment.
You May Also Enjoy: