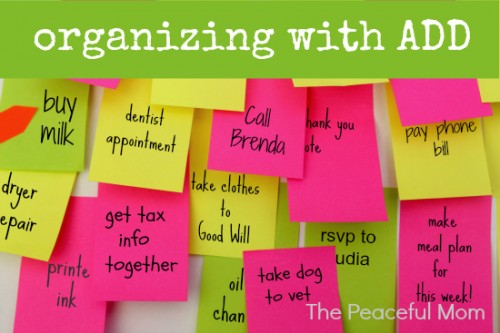 Do you have trouble organizing because you are easily distracted and have trouble focusing?
I do too and sometimes I feel like I am organizing with ADD. I have not been officially diagnosed, but I definitely don't think in a linear, analytic way and I am so very easily distracted. Organizing life can become overwhelming very quickly.
The three primary ways I make organizing simpler are:

1. Write everything down in one place;

2. Use the 10 Minutes a Day Declutter approach focusing on one area at a time;

3. Organize things into large groupings instead of worrying about all the small details.
My key secret to staying organized is creating a weekly plan. Each Sunday night I take time to review my long term goals as well as the appointments and obligations I have for the upcoming week. I choose the priorities and tasks that I want and need to accomplish and I schedule time for each of them in my planner. Life doesn't always go according to plan, but I am much more likely to complete my goals when I have them written down.
You can read How to Create a Weekly Plan here.
In addition to my organizing with ADD problem, we also have the issues of organizing small living spaces in our current home and the fact that we have VERY little closet or storage space. (There is not even a pantry in the house!). My solution has been to purchase inexpensive shelving for each room. The problem with open shelving is that it's open. 🙂 You can see everything, which means it can easily make a room look cluttered and disorganized.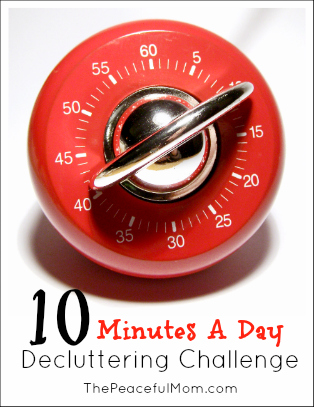 This weekend I ditched the 10 Minutes a Day Decluttering idea and got motivated to do an entire house shelf overhaul. We had homeschool items on shelves in three rooms, office supplies scattered about, books and notebooks in boxes– and it was making me crazy. Again, I didn't worry about the small details, but just grouped like items together.
My first project was the shelf next to my desk in our office space. I like to group things together in the way that I use them so it makes sense to me to use containers and baskets for storage. I found these baskets at the thrift store and paid $3.00 or less for each of them.
I moved everything off this shelf that doesn't immediately apply to my current projects. Homeschool books were moved to another shelf and any other items were disposed of or placed where they belong.
As you can see, I like binders. They help my keep life organized into categories which helps me to focus on one thing at a time. I currently have my Brain in a Binder (watch my video here),  my Holiday Planner (read more here), my Blogging Binder (watch my video here), my Financial Binder (this is a new one which I'll be writing about soon), and three book projects.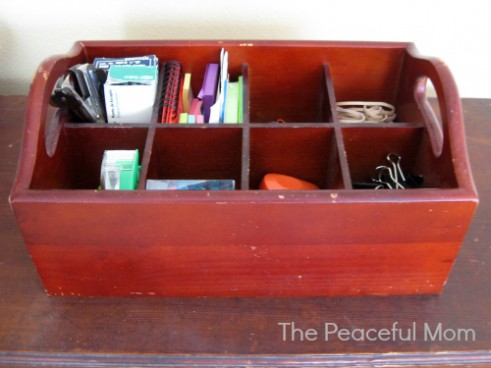 I also like to use unusual containers for storage. I found this cool wooden box at the thrift store for $.99 and it's perfect for organizing office supplies on the shelf.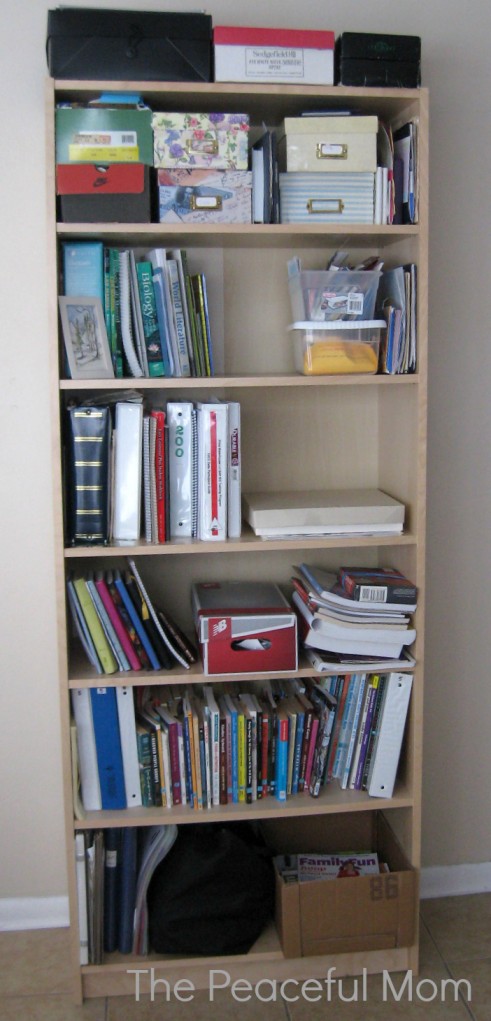 My next project was the homeschool shelf. This shelf is in progress, but I have our text books and materials (the children have some in their rooms as well), journals that I keep for my children, magazines to cut up for art projects, etc. We have another shelf in our living room with more reading books.
I also had plastic bins filled with photo boxes in my bedroom closet, which didn't leave much room for other items that needed to be in that closet. I took the photo boxes out this weekend and placed them on this shelf. I will be using the 10 Minutes A Day approach soon to organize the photos better so that I can start scrapbooking again.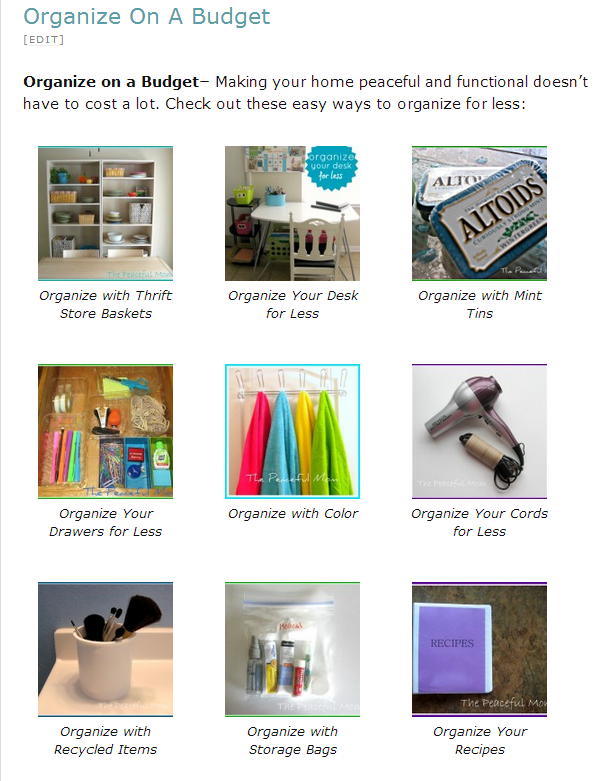 If you would like more free ideas for organizing clutter check out my Organize On A Budget page here.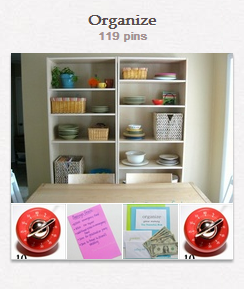 You can also follow my Pinterest Organizing Board here or follow all my Pinterest boards here.
How are you doing with your 10 Minute A Day projects? Leave a comment and let us know. 🙂
You May Also Enjoy: