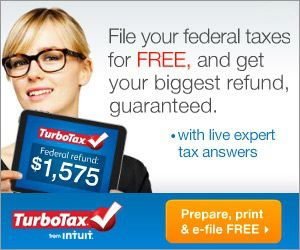 FREE tax preparation with TurboTax!
It's time to think about doing your taxes for 2012, and while that may not be a fun thought, getting a little help for FREE is!
TurboTax is the #1 Rated, best-selling tax software brand year after year, and they guarantee that you will get your biggest possible refund with 100% accurate calculations, free help, and step by step guidance so you are confident your taxes are done right.
*affiliate link– Read our disclosure policy here.