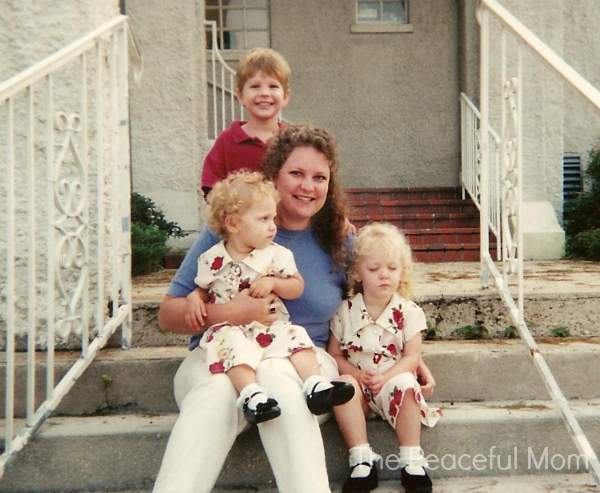 That's me with a 4 year old, a 2 year old, a 1 year old…and pregnant with number four (Hubby is missing because he took the photo.).
Somehow I made it but looking back I wonder how sometimes. Many of you are young mothers and have asked how to get things done when the kids are little so I thought I would share a little about what worked for me.
First of all, when I was where you are now I unfortunately did not have the wisdom to listen to much of what other moms who were further down the road shared with me. I did listen to one thing, however, and that was the advice to slow down and enjoy my children while they were young.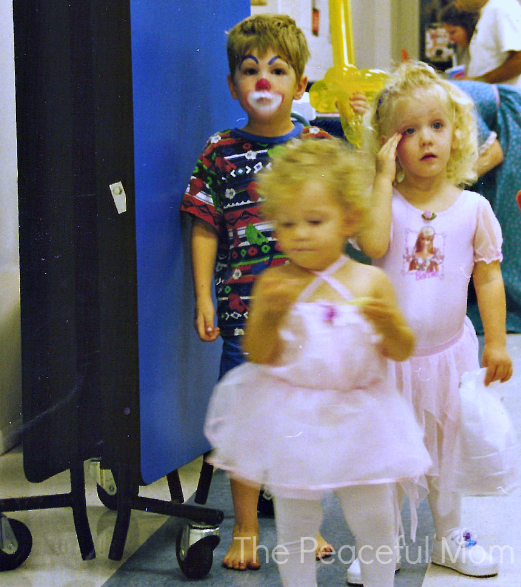 Slow Down
The advice to slow down enabled me to lower my expectations. I didn't stress about how clean the house was (or wasn't!), whether the clean laundry was folded perfectly or whether I accomplished a lot in one day. I did the basics to maintain life (dishes, cooking dinner, laundry) and I focused most of my time on playing with my children, reading lots of books, snuggling under blankets, sitting under sheet tents, visiting the park and having as much fun as possible.
At one point early on, I had my then 3 year old son playing with playdough at the table and the 18 month old finger painting in the high chair while I was rocking the new baby in the bouncy seat. I look back at that and wonder about my sanity.
Maintain a Basic Routine
Of course there were "those" days when I felt completely overwhelmed and I certainly enjoyed my children "less", if you know what I mean. One thing that helped was to have a basic structure for my days.
If we had all had a good night's sleep, I woke up a little early to pray and make a plan for the day. I did morning chores like loading the dishwasher and starting the laundry right after breakfast while the baby was still in the high chair and the toddler and 4 year old watched an educational dvd. If we had not had a good night's sleep, I kept my expectations low and we did lots of snuggling amid the piles of clean laundry and toys strewn on the floor.
If you would like a little help to create a routine for your family you can print the Preschool Mom's Helper organizing printable that you see above here.
Take Care of Yourself
The most sanity protecting action I took was making myself a priority. I did everything possible to get my children on the same nap schedule so that I could have some uninterrupted time during the day. Once they outgrew naps, they had "room time" and played with toys which were reserved just for this quiet play time and which I rotated each day. For example, toy cars and blocks on Monday; Legos and "Little People" on Tuesday; play kitchen and tools on Wednesday, etc. This bought me a little more time because the children were engaged with toys they had not played with for a week.
If it had been a long night I took a nap during this time (with the baby monitor on of course). If I was fairly well rested, I used the time to read or do scrapbooking.
I also tried to have an outing all by myself on a regular basis while my husband watched the kids. He was great about encouraging me to get out, which was a tremendous blessing. It is so important to take care of yourself and maintain a sense of your identity separate from your children because this time is so all-consuming.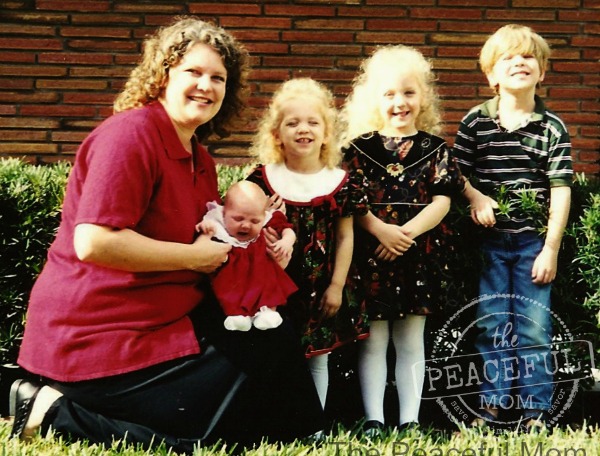 The truth is that your days will not go as planned. These photo moments when everyone is beautifully coordinated and smiling are few and far between in the preschool days.
Just remember that loving and training those little ones is your priority for this season of life, try to get as much sleep as possible and really enjoy those babies. There will be time later for other projects — trust me.
Click here to print the Mom's Preschool Helper (pictured above) for ideas to structure your days.
You May Also Enjoy: