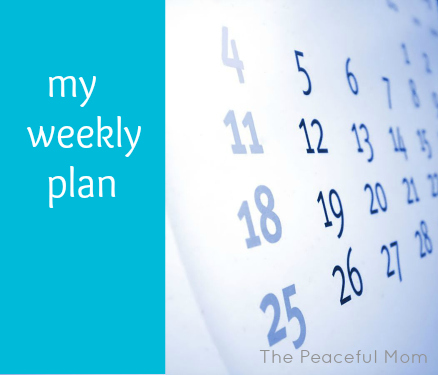 Being organized helps you to save money and live your true priorities!
My favorite way to stay organized is to make a weekly plan to ensure that I am focusing on what is truly most important in my life, rather than just staying busy.
I have used lots of different planners, but I am currently hand-writing my plan each week just because it makes me happy.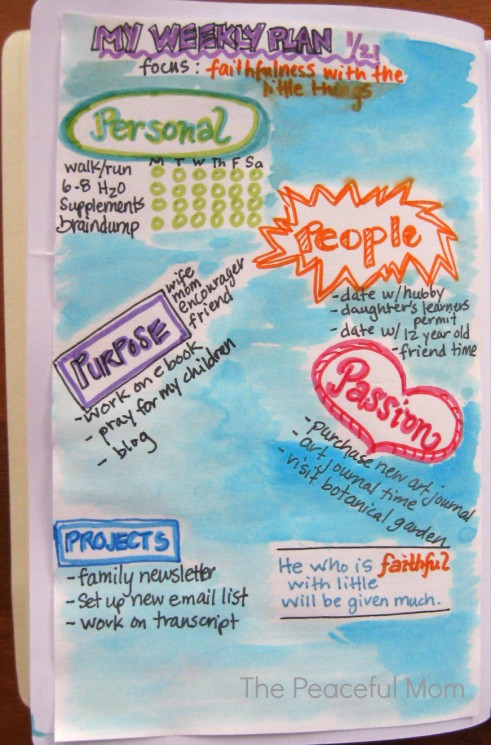 I divide my plan into five categories:
PERSONAL- habits that keep me healthy and happy
PEOPLE– activities that promote relationship with the people I love
PURPOSE– tasks that enable me to fulfill my purpose in life
PASSION– activities and experiences which enable me to enjoy life
PROJECTS– priority tasks that need to be finished this week
You can see last week's plan here. I was very happy to finish organizing the photos on our home computer and my laptop, and get them backed up. I try to do a weekly backup but that didn't happen for the last couple of months so it took quite a while to get everything filed in the correct folder and transferred to the external hard drive.
You can read more about my digital photo organization method here.
Another goal last week was openly communicating my respect and adoration for my husband. I made a commitment to focus on the positive and not criticize or complain. It made a huge difference in our relationship and I feel even more loving toward him.
This week I am focusing on being faithful with the "little" things. I will be paying attention to the details of my life that go unnoticed or projects that have been unfinished. One of those projects is the family newsletter that I originally wanted to send out in December and then moved to January, and still have not written. It's probably a good thing to send the photos of the kids out while they still look like the photo. 🙂
Another undone project is starting my art journal for 2013. I like to start a new book each year and I have not begun this year's yet. Thankfully my favorite art store has the hard back journals on sale!

As a gift to my readers, you can now print your own customizable Weekly Plan! Click here and "like" The Peaceful Mom on Facebook to access the download link.
Click the link and type in your info for the week. Once you are done, right click the form to print and check off each task as you complete it.
(You can see all of the FREE printable planners I have available here.)
What do you have planned this week? Leave a comment.
You May Also Like: