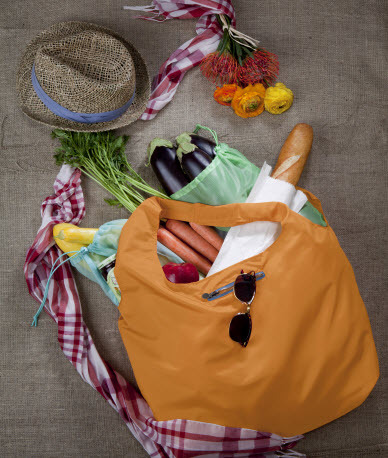 Mamasource has a great deal on stylish reusable bags from Bag the Habit–pay just $15 and get a $30 voucher (and your voucher can be used toward shipping!). The Luxe Totes (pictured above) are priced at $14.50, so you can get two with this voucher and just pay shipping of $4.99. They each come with a cute zippered pouch to store the bags in, so you can carry them in your purse for those "emergency" shopping trips. 🙂
You can also purchase reusable gift bags, produce bags and grocery shopping bags. These bags look terrific and they are perfect for travel or just for carrying in your car.
I ordered the grocery bags last year, and gave one to my sister and she loves it. They not only fold into a cute little bag for convenience, they are washable too.
Mamasource deals only last a few days, so take advantage of this now if you are interested.
 *affiliate link