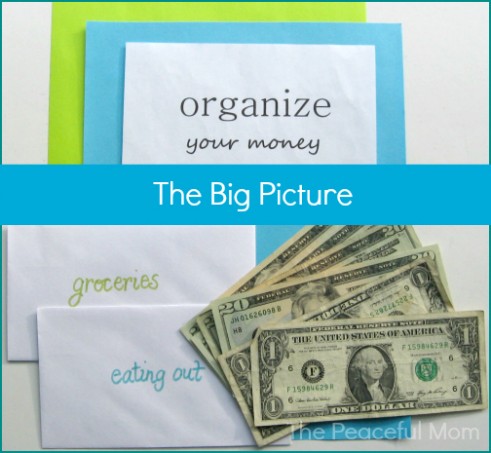 Organize Your Money: The Big Picture
It's January, so most of us are trying to get life organized for the new year. This week I will be sharing some simple ideas to help you organize your money. Click here to see all the posts in this series.
Today I want to encourage you to take a look at the big picture.
Many times when we think about our money, we think about the bills we have to pay or balancing the checkbook. In reality, our finances are so much bigger. Money is related to everything in our lives, and because money touches on every area, we cannot solve our money issues by simply looking at our finances. We need to integrate all aspects of our life together, and align our everyday actions with our true values.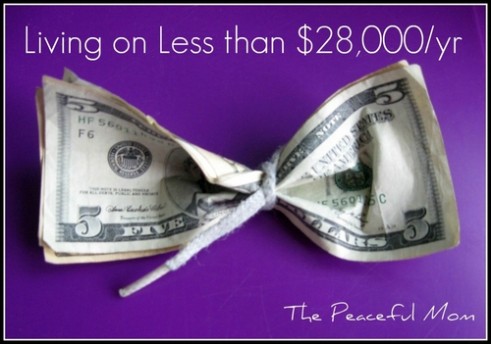 Our family has been on a multi-year journey of integrating our values with our financial life. If you read the Living on Less Than $28,000 a Year series, then you know that we chose to live on one less-than-average income for many years so that I could home school our children. There were some unpleasant consequences of that decision such as having only one vehicle for a long time, living in a smaller house, etc., but we made those sacrifices with a higher goal in mind.
In the spring of this past year, we started thinking bigger, and began to see that maybe we didn't have to live in an either/or situation. We started looking for ways to increase our income through part-time jobs, selling things we own and my blog. Through each of these avenues we were able to increase our income for 2012, but we also found that because the money came in a little at a time and we did not have a concrete overall plan, much of it was spent in ways that didn't really help us advance our true goals.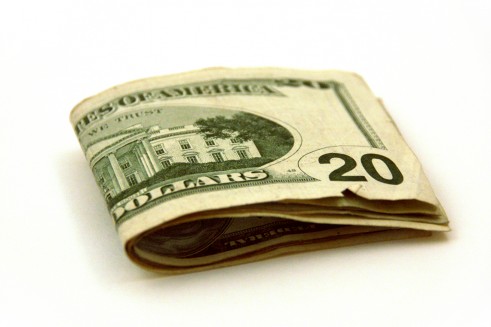 Spending an extra $5 or $20 here and there doesn't seem like much, but it adds up to hundreds and thousands of dollars over a year's time. We realized that we were saying that we valued giving and saving, but we were not really living it out in our day-to-day lives.
So for 2013, we decided to take a look at the big picture of our life and our finances, and to make some specific plans for this year.
A few of our "dream big" goals for this year are:

give at least $1000 this year to causes and projects we believe in

increase our budget from $2200 a month to $3000 a month to accommodate things like medical/dental needs, clothing, Christmas savings,etc.)

complete all necessary repairs on our vehicles

add an additional $1000 to our emergency fund (more if possible)

pay for a graduation party for our son with cash

pay for a trip to a friend's wedding with cash
We may not accomplish everything on the list, but we have goals to work toward, and as Zig Ziglar said, "If you aim at nothing, you will hit it every time!" By writing down specific goals, we are much more likely to actually accomplish them.
If you would like to join us on this journey to align your money with your values, take a few minutes this week to dream about how you would like your life and your finances to look, then write down some specific goals for this year. Don't limit yourself by what you think you can do, or what you have done in the past. Think bigger!
Please Note: I am aware that many of you have come here because of a job loss or other financial difficulty. I encourage you to not lose hope and to not give up dreaming. Just because you are where you are now, does not mean that you have to be there next week, next month or next year. Dream about where you would like to be. Think about what would you like to be different–not just an increase in your income, but everything in your life. Pray for vision and purpose.
What are some of your goals and dreams for 2013? Leave a comment.
Click here to read the next post in this series: Organize Your Money Step by Step
You May Also Enjoy: