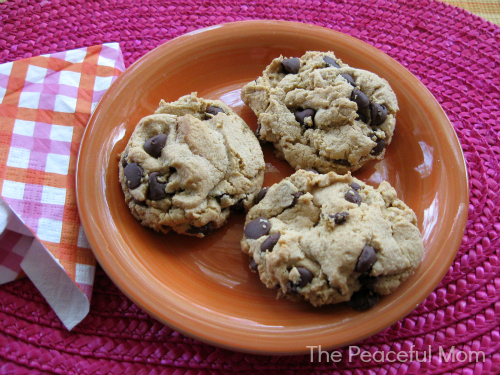 Flourless Gluten Free Peanut Butter Cookie Recipe–
I have one word for you: YUM! These cookies are delicious, super easy to make and naturally gluten free because the recipe doesn't use any flour. They have a great texture, and as my daughter says,"AMAZING!".
Make sure to eat these within a couple of days for the best results (if they last that long!).
Flourless Gluten Free Peanut Butter Cookie Recipe
An easy and delicious gluten free recipe from ThePeacefulMom.com!
Ingredients
1 cup creamy peanut butter
3/4 cup sugar
1 large egg, beaten
1/2 cup semisweet chocolate chips
1/2 teaspoon baking soda
1/4 teaspoon salt
Instructions
Preheat oven to 350 degrees.
In a medium bowl, combine peanut butter, sugar, egg, baking soda and salt.
Stir until well blended.
Add chocolate chips.
Line a cookie sheet with parchment paper.
Drop dough onto cookie sheet by rounded tablespoonfuls 2 inches apart.
Bake for 14-15 minutes or until puffed up and lightly browned.
Cool for 5 minutes on the cookie sheet placed on a wire rack.
Move cookies to the wire rack and allow them to cool an additional 15 minutes.
https://thepeacefulmom.com/2013/01/09/flourless-gluten-free-peanut-butter-cookie-recipe-2/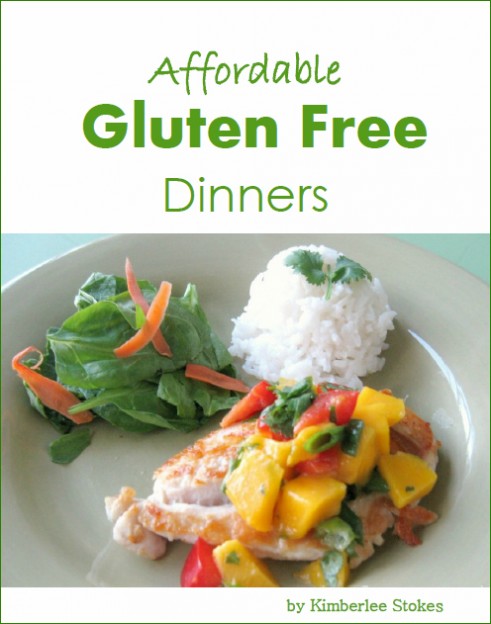 Need more delicious and budget-friendly gluten free recipes? Click here to read more about my ebook Affordable Gluten Free Dinners!
You'll find our family's story of going gluten free; our 6 top tips for making gluten free more affordable plus 12 simple and delicious gluten free dinner recipes complete with photos and serving suggestions!
I'm linking up at Tasty Tuesdays and Gluten Free Wednesdays!