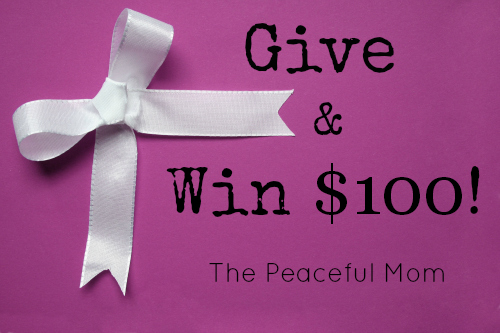 Generosity Week: Give and Win $100 from The Peaceful Mom! 
It's January, which means not so nice weather, lots of indoor time and the after-the-holidays doldrums. To counteract the grayness of January our family will be focusing on generosity this week in big and small ways. A few of the things we will be doing are making some treats for friends, giving away a $20 gift card to a stranger and doing random acts of kindness at home and in our neighborhood.
If you would like to participate with us this week, I am also hosting a giveaway here on the blog! I will be giving away a $100 Visa gift card to one of my readers, along with a $50 Walmart gift card for the winner to give to someone else!
To Enter:

Please give something to someone outside of your family this week and choose one (or all) of the following entry methods (WINNER WILL BE SELECTED FROM THE COMMENTS ON THIS POST):

1 Entry—"Like" The Peaceful Mom on Facebook (click here) and share this post on Facebook (click the "LIKE" button below this post.)

OR

Follow @thepeacefulmom on Twitter (click here) and re-tweet this post (click the "TWEET" button below the post.)

IMPORTANT: Leave a comment on THIS POST saying you have done so. (Please note: Email readers will have to click through to the website to leave a comment.)

1 Entry– Leave a comment on THIS POST telling me one specific thing you will give this week. For example, if you are a hair stylist you could give away a haircut. If you are a stay at home mom you could bake a cake for someone or keep another mom's child.

1 Entry-Follow me on Pinterest (click here) and repin this post (click the "PIN" button under the photo at the top of this post). Leave a comment on THIS POST with the link to your pin.

You may make a total of (3) entries with each individual comment on this post counting as an entry. Comments made on Facebook, Twitter or Pinterest will not count unless you make a comment on this post saying that you have posted there.
Contest Rules
You may enter a total of (3) times using the above instructions. Entries which do not follow the guidelines will be disqualified.
The contest period runs from Monday, January 7, 2013 to Tuesday, January 15th at 9:00 am EST.
Winner will be randomly selected from the comments on this post using third party software. Winner will be notified by email and must respond within 24 hours to qualify to receive prize of (1) $100 Visa Gift Card to keep and (1) $50 Walmart Gift Card to give away. Gift cards will be sent by U.S. mail.
Contest is open to residents of the United States only.
Have fun giving! 🙂