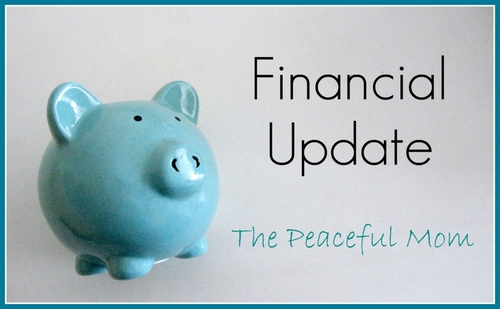 In conjunction with the Living on Less Than $28,000 A Year series, I started sharing periodic Financial Updates about our family's finances. I don't always give specific numbers, but I thought it might be helpful for those of you in a similar situation to take a peek at how things go at our house.
Spending
We had another great month in the grocery department with our total spending at $321.28. Our utilities were lower than expected ($300) because the weather was warmer than normal this time of year, but that savings was offset by the fact that we spent more in gas for the car ($447–$380 budgeted) because we attended lots of social events and drove the kids to visit friends several times. We were also over-budget in the household/toiletry category with a total of $78 ($50 budgeted).
The really good news is that we were able to stick to our Christmas budget of $300 (although I did mess up a little which you can read about here). We were also able to eat out on Christmas Eve thanks to saving on the groceries all month!
Saving
After looking at our finances for the previous few months, we decided to follow the baby steps of Financial Peace (a Dave Ramsey program) more closely and really make it a priority to have a $1000 emergency fund. We moved some money from the categories in our Freedom Account (read more here) and thanks to some extra money from commissions, part-time work, selling things and blog money, we were able to make it to the $1000 mark!
Goals Update
Our original goal for December was to add at least $200 toward the needed car repairs, but as I mentioned above, we decided to move all available money to the emergency fund. We can use the emergency fund money for the car repairs if we have to, but as long as the car is still driveable for short distances, we will wait until we can save some more cash for the repairs. Having to rely on one car again is inconvenient, but we don't consider it a true emergency.
How was December for you? Were you able to stick to your Christmas budget?
Leave a comment so we can encourage each other. 
(email readers will need to click through to the blog)
You May Also Enjoy: