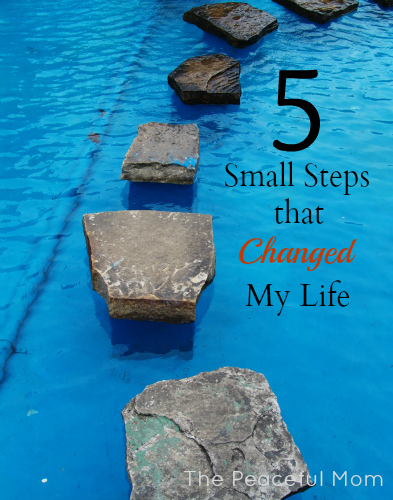 5 Small Steps That Changed My Life In 2012-One of my favorite things to do in January is to take a look at the previous year to evaluate what worked well and what areas I need to improve. As I reflected on this past year, I realized that there were five small changes that I made which truly improved my life, so I thought I would share them with you.

Making a Morning "Brain Dump"
You can read more here, but basically the very first thing I do every morning is to write down everything that is on my mind including any dreams I had during the night. Doing a "brain dump" enables me to clear my mind and focus on my priorities for the day. Important thoughts and tasks are recorded, rather than just swimming around in my head or being forgotten.
Making this a daily habit has increased my creativity, productivity and peace.

Honoring My "Power Hour"
I first heard about the "power hour" from The Barefoot Executive. The basic idea is to take one hour during the day where you shut everything off (email, Facebook, phone, etc.) and focus on work. I have expanded on the idea by focusing on my most brain-intensive work during this time (writing, planning, etc.).
I am a morning person, so my "Power Hour" is the first thing after my "brain dump". If I prioritize and protect this time, and make clear goals for what needs to be done, I find that I am able to quickly accomplish tasks that would normally take several hours later in the day due to interruptions and brain fog. Another benefit is that the rest of my day goes much more smoothly because I don't have important tasks hanging over my head.

Taking a Daily Walk
I have heard for years that I need to exercise 3 times a week for at least 30 minutes, but I was never motivated by knowing that I "should" exercise. I would exercise for a few months and then let the habit fall to the wayside. A few months ago I decided to take a walk/run every day. I have missed a few days, but I can tell you that making exercise a daily priority has helped me physically, emotionally, mentally and spiritually.
Exercise clears my mind, helps me to cope with stress and enables me to feel connected spiritually (I often pray during my walk/run).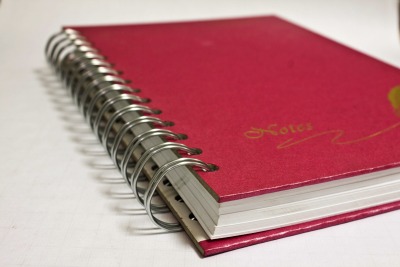 Carrying a Notebook (everywhere)
Early in 2012 I read a quote by Robert Louis Stevenson, "I always carry two books with me. One to read, one to write in". I thought I would give it a try, so I started carrying a small notebook with me every time I left the house. I can report to you that this habit has made the biggest improvement in my life so far this year.
My best ideas have sprung up while I am taking those daily walks. Instead of letting the ideas slip off into oblivion, I record them immediately. One day I had so many ideas coming that I wrote for 20 minutes after my walk.
One awesome benefit has been that I quickly see that many of the things that I originally worried about, worked themselves out and turned out not to be a big deal. Writing everything down helps me to organize my thoughts and ideas, and enables me to plan better because I can incorporate those ideas into my life where they best fit instead of jumping into one idea, only to become distracted by another.
Of course, you can also record ideas and thoughts in an app like Evernote, but I really like handwriting mine for now.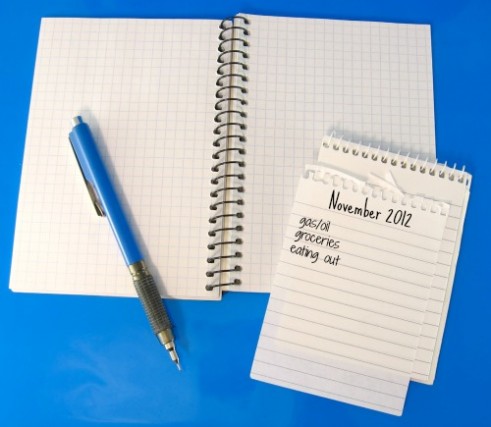 Recording My Spending (all of it)
I have known for a long time that recording my spending could help keep my finances on track, but frankly I was just rebellious. I didn't want to be accountable for my spending–I wanted to spend my money however I wanted. The last quarter of this year I decided that I would be a grown up and write down everything we spent. It was eye-opening, especially our annual totals. Even on our low-ish income, we spent hundreds of dollars on non-essential items this past year.
Keeping a record gives us a better idea of how to budget for this upcoming year and shows us where we can make improvements. I will be writing more about our financial goals for 2013 in an upcoming post, but suffice it to say that recording our spending will be at the top of the list.
Maybe these particular steps won't help you, but the idea is that by making small changes consistently over time, you can improve the quality of your life. This time next year, you will be able to look back and see how far you've come!
What about you? Did you make any changes in 2012 that you will be continuing in 2013? Leave a comment.
You May Also Enjoy: