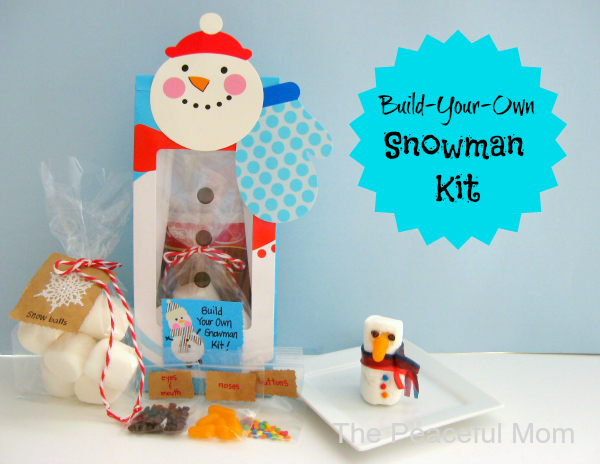 Sometimes you just need a cute and inexpensive gift idea for friends and neighbors. This year we are making these Build-Your-Own Snowman Kits (with FREE printable Instruction Card). Depending on your packaging and the supplies that you have on hand, they can cost as little as $3.00 each.
For each Build-Your-Own Snowman Kit (makes 4 snowmen) you will need: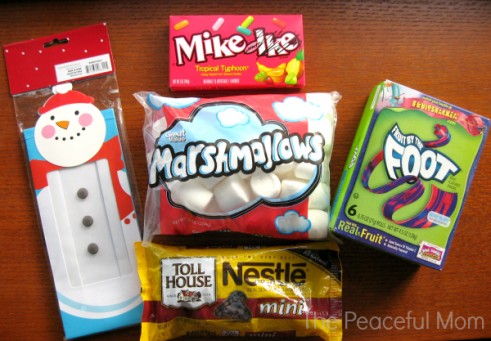 Materials
Food:
8 marshmallows
1 tablespoon mini chocolate chips (eyes and mouth)
4 orange Mike and Ike's candy (or other orange candy for the nose)
1 tablespoon cake decorating confetti (buttons)
2 strips of fruit leather (scarves)
3-4 tablespoons of ready-made icing
4 hot cocoa mix packets
Packaging:
1 clear plastic party bag (click here to view)–(you can also use a zipper top sandwich bag)
ribbon or twine to tie the bag
small zipper top bags (found in the candy section of craft stores)
zipper top snack bag (for "scarves" and "snowman glue")
colored paper for tags (I used brown paper bags for some of my tags)
snowman and snowflake stickers
double sided tape
snowman themed gift bag to hold the kit (We found ours at Walmart. You can also decorate a brown paper lunch bag or small gift bag.)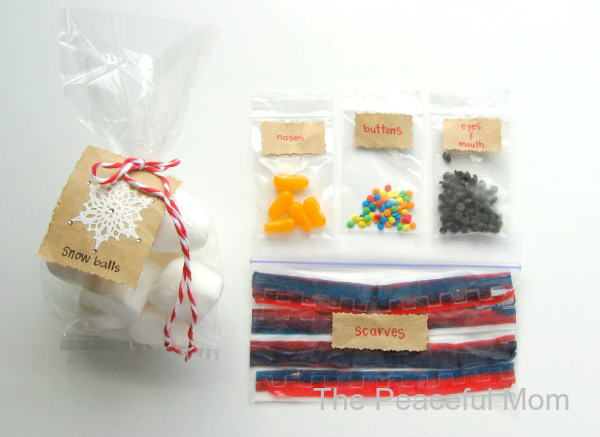 Instructions to Make Each Kit:
::Place the marshmallows in the clear plastic party bag and tie closed with the ribbon or twine.
::Place candies for eyes, nose and buttons into individual zipper top bags.
::Cut fruit leather into 3/4″ inch wide and 6 1/4″ long strips (we used Fruit Rollups and left the paper on)
::If desired, use scissors to trim the edges so they look "fringed".
::Place fruit leather strips inside a snack sized zipper top bag.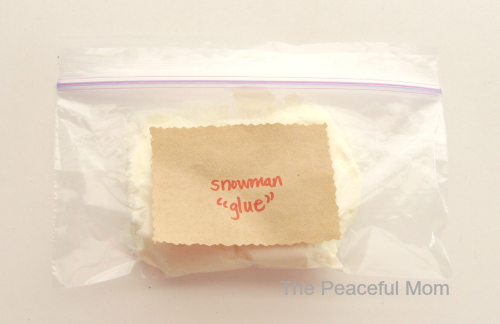 ::Spoon 3-4 tablespoons of icing into another snack sized zipper close bag (this is to attach the various candies to the snowmen).
::Apply labels to each bag.
::Place all bags inside a snowman-themed gift bag with the Instruction Card (see below).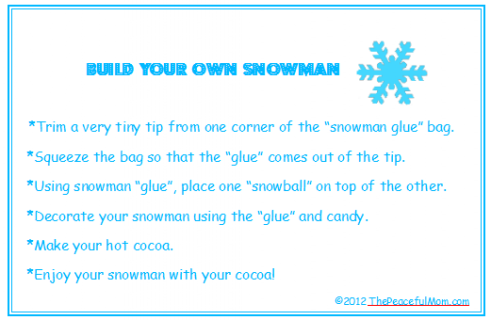 Click here to print the Instruction Card for the Build-Your-Own Snowman Kit (2 to a page).
Please Note: Small children will need lots of help to put the snowmen together, but the fun is really in eating the candy and enjoying your hot cocoa. 🙂
You May Also Enjoy: