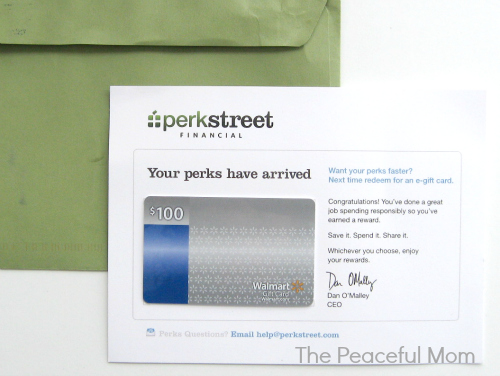 [Editor's Note: Unfortunately, this program is no longer available.]
I received this lovely $100 Walmart giftcard in the mail this week from Perkstreet and it couldn't have come at a better time!
We earned the gift card just by using our Perkstreet debit card to make our regular household purchases–which is a totally painless and awesome way to make a $100!
Perkstreet is an online banking service through Bancorp Bank that we have been using for over two years now. Checking accounts are totally FREE and super convenient because withdrawals can be made at lots of local ATMS for FREE. Deposits can be direct deposited or mailed in with the postage paid envelopes provided by Perkstreet.
The very best part about the Perkstreet FREE Checking Account (besides the FREE part 

 ) is the fact that you earn cash back rewards just for using your debit card for your normal everyday purchases (as a signature-based, non-PIN transaction), and they rack up rather quickly!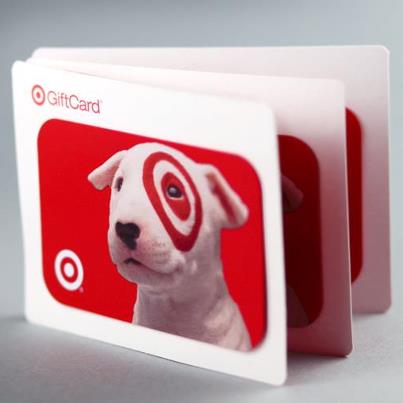 We normally get the $100 Walmart gift card which we use to buy household needs like clothing, food or toiletry items, but you can also earn gift cards to Target® and other retailers like T.J. Maxx®, Marshalls®, and Macy's, as well as gift cards for restaurants like Dunkin' Donuts®and Olive Garden® ! (You can also get cash, but you have to pay a small fee (redeem $22 in points to get $20 deposited into your account).
If you are looking for an easy way to make some money from your regular household spending, click here to sign up for a FREE Perkstreet checking account.
What would you buy with a $100 gift card? 
[Please Note: I only recommend products on the blog that I personally use, or which I believe are a good value for my readers. I can very highly recommend Perkstreet! Perkstreet does pay me for accounts opened through these links, but I recommended them before I received payment because we have had such a great experience with them. They are also recommended by Dave Ramsey.]