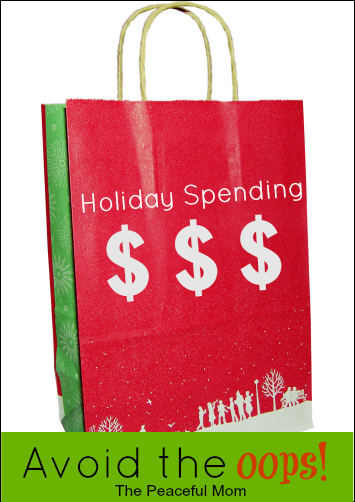 So it's down to holiday crunch time people–only a few days until the Big Day! If you're trying to live on less, I just wanted to give you a little reminder to be careful this week.
This time of year it is especially important to review your financial goals and set a strict limit on your spending. With all of the excitement of the holidays and the desire to make our friends and family feel loved, we can spend more money than we can really afford.
I experienced this very problem last week. I found an idea on Pinterest and decided to actually do it instead of just pinning it. 🙂
I went into the craft store armed with my 40% off coupon and started gathering the materials. As I looked at all the options, my idea morphed into something more extravagant, and my total ended up being $20 more than I had planned to spend.
I justified my spending because I want to make the gift nicer for the recipient, but the fact is that the $20 extra that I spent has to come from another budget category and spending it prevents us from meeting our financial goals (like saving for a needed car repair). I plan to be a little more prepared next time I go to the craft store and have my budget firmly established in my mind and the cash in a separate envelope.
It's one thing to have a holiday budget, but the important thing is actually sticking to it so that you can use your money to fulfill your true goals, rather than wasting it on impulse purchases.
Do you find it difficult to stick to a holiday budget? Leave a comment.
(Email readers can click here to leave a comment.)
You May Also Enjoy: