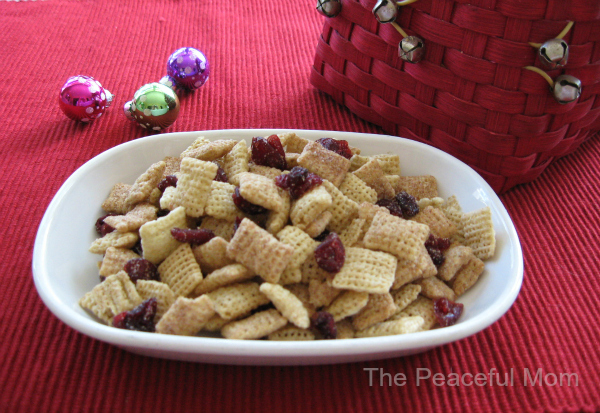 If you need a yummy and quick snack for an upcoming holiday party, this Cranberry Party Mix will make you and your guests happy!
Cranberry Party Mix (gluten free)
A fun holiday recipe from The Peaceful Mom!
Ingredients
2 cups Cinnamon Chex
2 cups Corn Chex
2 cups hazelnuts or almonds (optional)
1/3 cup maple syrup
1/4 cup butter, cubed
1/4 cup packed brown sugar
1-1/2 teaspoons salt
2 cups dried cranberries
1 cup chocolate chips (optional)
Instructions
In a large bowl, combine cereal and hazelnuts; set aside.
In a small sauce pan, combine syrup, butter, brown sugar, and salt.
Cook over low heat, stirring until all ingredients are melted and well blended.
Pour syrup mixture over cereal mixture and toss to coat.
Spread cereal mixture on a cookie sheet and bake at 350 degrees for 15 minutes.
Carefully pour cereal mixture back into the large bowl.
Stir in cranberries.
Allow mixture to cool and add chocolate chips if desired.
Store in an airtight container.
https://thepeacefulmom.com/2012/12/18/cranberry-party-mix-gluten-free/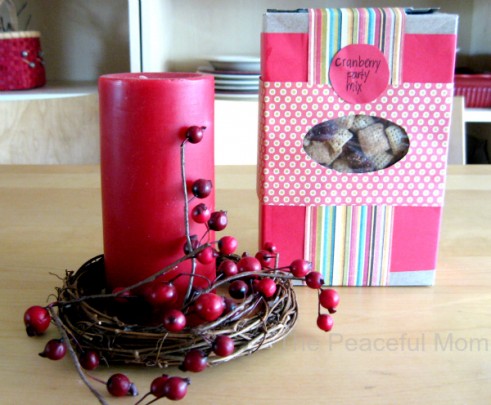 Check out this cute packaging idea to give this as a gift!
Do you have any favorite holiday recipes? Leave a comment or a link. 🙂
I'm linking up at Gluten Free Wednesday
You May Also Enjoy: