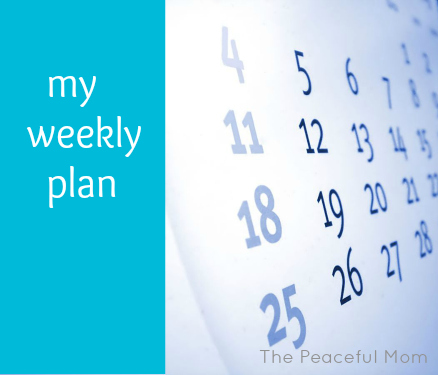 Each Sunday evening I make a weekly plan to ensure that I am focusing on what is truly most important in my life, rather than just staying busy.  
I have used various kinds of calendars, agendas and printable pages, but my current favorite is to hand write my plan. Rather than making a simple to do list (boring!), I like to focus on the things that bring joy and happiness to my life.
I divide my plan into five categories:
PERSONAL-habits that keep me healthy and happy
PEOPLE-activities that promote relationship with the people I love
PROJECTS-priority tasks that I want to focus on this week
PURPOSE-tasks that promote my purpose in life
PASSION-things that I love which enable me to enjoy life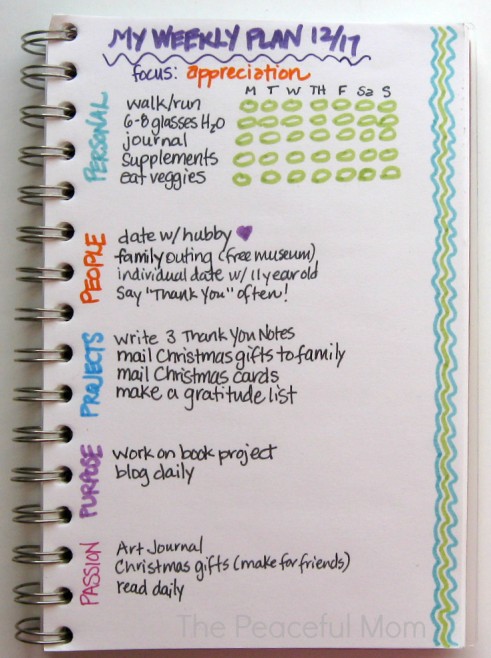 You can see last week's plan here. I accomplished everything on the list except for the Christmas craft with the kids. We did have 2 fun family outings though. 🙂
This week I am focusing on Appreciation. You can read why here.

As a gift to my readers, you can now print your own customizable Weekly Plan! Click here and "like" The Peaceful Mom on Facebook to access the download link.
Click the link and type in your info for the week. Once you are done, right click the form to print and check off each task as you complete it.
(You can see all of the FREE printable planners I have available here.)
What do you have planned this week? Leave a comment. 🙂
You May Also Like: