This post brought to you by Mrs. Smith's. All opinions are 100% mine.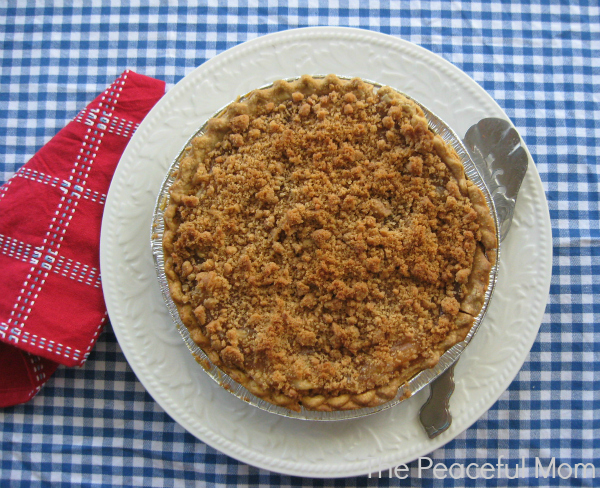 I don't know about your family, but here in The Peaceful Mom household, we like our pie. As a matter of fact, my kids seem to be slightly obsessed with pie, probably because we rarely actually eat it.
And why do we rarely eat it, you ask. Because I don't like making pie. 
So, as you can imagine, my children were overjoyed to learn that we would be trying out Mrs. Smith's Signature Deep Dish pies. When I shared the news with them, their response was PIIIIIIIIIIE! (with accompanying squeals of delight!).
The pies come in four varieties:
Signature Deep Dish Dutch Apple Pie with Caramel Sauce

Signature Deep Dish Cherry Pie with Butter Fudge Sauce

Signature Deep Dish Peach Pie with Cream Cheese Icing

Signature Deep Dish Pumpkin Pie with Cream Cheese Icing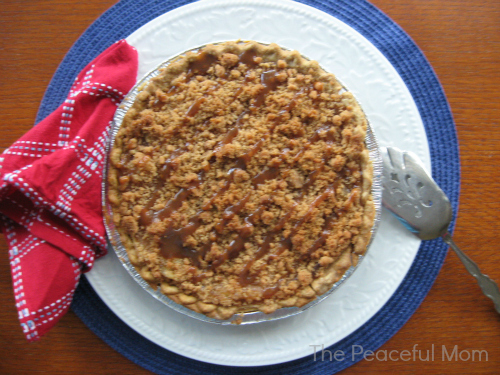 The really cool thing is that the pies each come with a separate pack of icing or sauce so that you can customize them. This is the Dutch Apple Pie with a brown sugar crumble that you can add and a yummy caramel sauce drizzled on top.
All you have to do is pop the pie in the oven, customize it for your tastes and look like a genius! Or, let your guests each customize their own slice–perfect for company or a fun activity with your kids.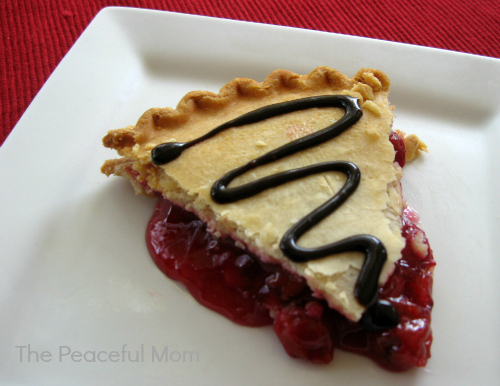 Our absolute favorite was the Cherry Pie. It tastes great, but it was even better with the Butter Fudge Sauce and a scoop of vanilla ice cream!
And speaking of ice cream, if you happen to have any of the butter fudge or caramel sauce left over, they make a great sundae topping. My gluten free child enjoyed the caramel sauce on her vanilla ice cream while the rest of the family ate pie.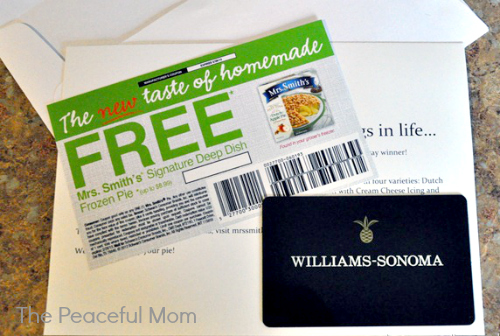 If your family likes pie as much as we do, you will be happy to know that Mrs. Smith's is giving away a prize pack to my readers consisting of a coupon to try one of the Signature Deep Dish pies yourself and a fabulous $50 gift card to Williams Sonoma!
To enter to win:

1 entry: "Like" The Peaceful Mom on Facebook and leave a comment on THIS post saying you have done so.

1 entry: Leave a comment on THIS post saying which of the four Signature Deep Dish Pie varieties you would like to try and what you would purchase with your $50 Williams Sonoma gift card.

Maximum 2 entries per person.

Contest ends Wednesday, December 19th at 9:00 am EST.

Winner will be randomly selected from the comments on this post and notified by email.

Prize of (1) coupon for a FREE Mrs. Smith's Signature Deep Dish pie and (1) $50 Williams Sonoma Gift Card will be mailed once the winner's address is received.
Be sure to follow Mrs. Smith on Facebook and Pinterest too!